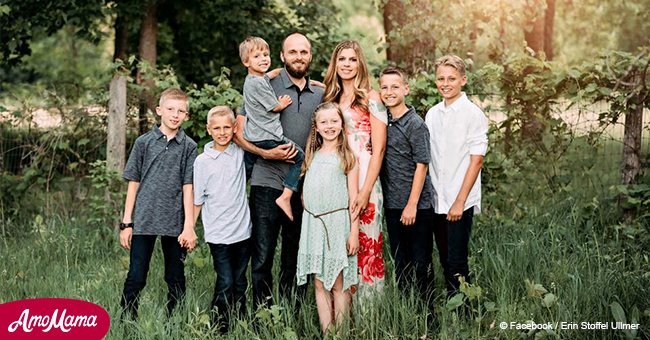 Father of four shares emotional story about finding love after his wife suddenly passed away
This man was devastated by the sudden loss of his wife, but has since found love with the most unexpected of people, who pulled him out of the dark space he found himself in after his wife's death.
Steve Ullmer had married his highschool sweetheart Wendy when he was 23 years old. The pair had survived long distance the entire time they were in college, and she stuck by his side through alcoholism and drug addiction.
He beat his addictions with her help, and by giving his life to God. The couple were happy, and welcomed four sons into their family after they married.
But 13 years later, one night in March 2017, tragedy struck them. He woke that night, and a moment later heard her gasp in a way that instantly had him worried. He decided to wake Wendy, but found her completely unresponsive.
He called 911, and performed CPR until the emergency responders arrived. At the hospital, they were able to briefly restart her heart, but she never regained consciousness.
Steve felt an indescribable grief, and was met with sympathy and love from everyone he had ever known. But one message stopped him in his tracks. It was from a woman named Erin Stoffel.
Everyone in the area knew her story: She had married her husband Jon Stoffel when she was just 19 while the pair of them were at Bible college together. 13 years later, in 2015, they had welcomed two daughters and a son.
But they were about to be met with an unfathomable catastrophe. The family had taken a walk together one night on the Trestle Trail Bridge in Menasha, Wisconsin.
Halfway across, they saw a man slumped over, and Jon had leaned down to ask if anything was wrong. Instead, he was met with a gunshot at point blank range in his chest.
The gunman next turned to Erin and her 11-year-old daughter, Olivia, and shot each once. Erin was shot in the leg, and scrambled back to her feet to grab her other daughter, Selah, and her son, Ezra. As she ushered them off the bridge, she was shot twice more: once in the abdomen and once in the hand.
When they got off the bridge, she collapsed onto the shore, unsure of where the gunman or her children were.
She woke up in hospital, after multiple surgeries, to learn that her husband and her eldest daughter had not survived the shooting. Another man on the bridge had also lost his life.
Faced with the unimaginable pain of the losses, somehow Erin had remained a positive, happy person, and when she reached out to Ullmer after the loss of his wife, she was able to comfort him in ways no one else could.
They communicated via text and email for a month before they met for the first time, and when they did they just walked and talked for hours, finding comfort of their losses in one another.
"Grief had changed her, but not in the way you would expect. It was grief that brought us together, but a relationship based on that alone won't survive. I remember the day she told me, 'You help me too Steve.' I began to understand that God was using us to help heal each other," Steve wrote.
The pair were also both haunted by the situation their children were in: Erin's growing up without a father, and Steve's growing up with a mother. They also knew that no other children could relate. Until they met one another.
"Seeing all of our kids together, seeing them relate, laugh, connect and talk openly about their grief, well, it's hard to put into words how that made us feel. They were able to find healing through each other, a kind of healing that we simply could not offer as parents. The same connection that came so naturally between us was occurring between our children as well," he said.
Erin and Steve married on June 28, 2018, a year to the day from Erin's first text message to him.
Although their relationship was born from two unthinkable tragedies, Steve hads an incredible view of their love and their blended family:
"Grief will always be a part of our story, but it doesn't define us. It can drive you in 1,000 different directions, down 1,000 different roads – most of them toxic. The temptation to give in to bitterness, regret, and isolation is strong because so often, it's the easier choice. Instead, Erin has taught me how to be open and honest with grief. She taught me to embrace the moments of joy when they come, to embrace the tears when they come, and they do still come. We have chosen to live with gratitude for the loved ones we lost, for the years we were gifted with them, and towards a God who made a way for us to see them again."
Please fill in your e-mail so we can share with you our top stories!