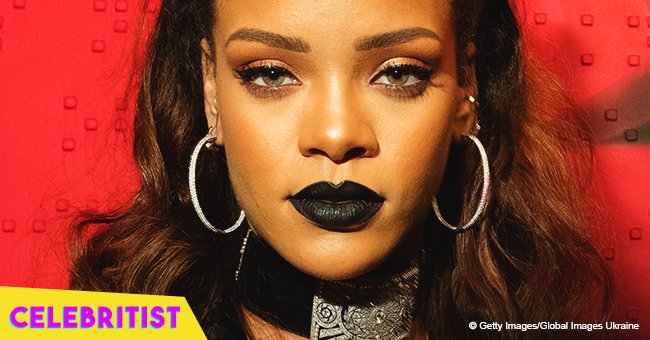 Rihanna sparks heated talk with her 'extra thin' eyebrows in pic for British Vogue
The singer is the first black woman to grace the cover of the anticipated September issue of British Vogue, and her make up is creating a heated discussion about eyebrows among fashion and beauty experts.
For those who are not familiar with the fashion world, fashion magazines consider September as the biggest, most important issue of the year because of the season change. Also, because women can start off with a clean slate and renew their wardrobes and looks.
As the first black man to become editor-in-chief of the world renamed publication, Edward Enninful, who took the position in August 2017, knew he needed to make an impression with his first ever September issue. And Rihanna was the perfect candidate.
"I always knew it had to be Rihanna. A fearless music-industry icon and businesswoman, when it comes to that potent mix of fashion and celebrity, nobody does it quite like her," he wrote on his in his monthly editor's letter.
And continued:
"No matter how haute the styling goes, or experimental the mood, you never lose her in the imagery. She is always Rihanna."
Shot by photographer Nick Knight, and styled by Enninful himself, the cover features Rihanna wearing Prada and looking ethereal with a flower arrangement from Japanese artist Makoto Azuma on her head.
Her make-up, done by acclaimed celebrity make-up artist Isamaya French wearing Rihanna's brand Fenty beauty, is sparking a lot of talks among fashion experts, bloggers and beauty junkies.
In the shot, Rihanna is donning pin-thin eyebrows, which seems to be a homage to the long-gone '90s fashion trend that stars like Drew Barrymore and Kate Moss used to rock.
However, some fans have been wondering if Rihanna has enough power to bring back the look and replace the current trend of groomed, full eyebrows.
Since both Vogue and the "Umbrella" singer are trendsetters, and the September issue often introduces the next trends that are going to take over the fashion world in the second half of the year, it wouldn't be crazy to wonder if the world is ready for thin eyebrows to make a comeback.
Alessandra Steinherr, former beauty director of Glamour magazine, told BBC that the probability of people imitating Rihanna's look is unlikely. As she stated:
"No, it's not going to filter down to the wider public. Beauty bloggers will be doing it in tutorials and I think perhaps we'll move towards a thinner more natural brow - but brows are such a strong feature, I can't see them going away soon."
Fans have strong opinions about the look, and they are not shy to share them on Rihanna's comment section.
Instagram user @famous.mxribel wrote:
"I thought girls with thin brows were ugly...they still are but only Rihanna can pull it off,"
@damnamelia added:
"not feeling the brows, even ironically,"
and @almabq120 agreed:
"It took 15 years for my brows to grow back. Never going skinny again sorry RiRi."
Whether the trend finds its way back into our lives or not, Edward Enninful has a bit of advice for his readers, encouraging them to follow Rihanna's example.
"Whichever way you choose to dress the new season, take a leaf out of [Rihanna's] book and be yourself."
What do you think? Are thin eyebrows in or out?
Please fill in your e-mail so we can share with you our top stories!