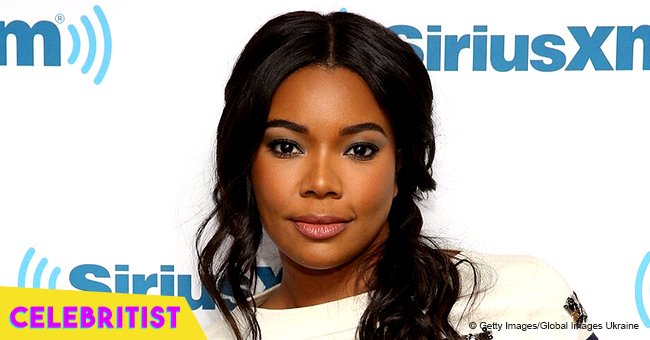 Gabrielle Union stuns in plunging, white dress after opening up about infertility struggles
The "Being Mary Jane" star joined Hallmark's "Put It Into Words" Campaign, and she looked stunning at the red carpet of the launch party event.
Gabrielle Union looked gorgeous posing next to her husband, Dwayne Wade, on the red carpet of Hallmark's "Put It Into Words" Campaign release party in Los Angeles on Monday. The campaign aims to increase the use of cards between families, friends, and lovers to express with written words what can be difficult to say verbally.
The 45-years-old rocked an all-white Sally Laponte Spring 2018 outfit featuring a sleeveless tank with a plunging neckline under a coat and fringed mini shorts that turned all the attention to her toned legs. She completed the look with silver strappy sandals and fuchsia lipstick.
Union served as the host of the release party and debuted the first episode of Hallmark's new docu-series, where she talks about Wade and their love for each other.
The NBA star, always the supportive husband, was also present at the event. He wore a black t-shirt, ankle length grey jeans, and white sneakers.
Gabrielle and Dwayne tied the knot back in 2014, and since then, they have been trying to conceive a child, but it has been a difficult task for the actress, who has suffered eight or nine miscarriages.
She opened about her fertility struggles on her memoir book "We're Going to Need More Wine," where she wrote:
"I have had eight or nine miscarriages. For three years, my body has been a prisoner of trying to get pregnant — I've either been about to go into an IVF cycle, in the middle of an IVF cycle, or coming out of an IVF cycle."
And continued:
"This child we want to have has been loved even as an idea. So we remain here, bursting with love and ready to do anything to meet the child we've both dreamed of."
Gabrielle told Dr. Oz on a visit to his show that her reasoning to sharing such a personal experience was based on the fact that there's still a taboo around women who have fertility problems, and by putting her experience out there, she can send an important message: "there's no reason to suffer in silence."
She said:
"No one wants the world to think you're 'defective' or less than a perfect woman or less than capable. There's so much shame and mystery and guilt that surrounds fertility issues. That's why I wanted to include it in my book because I'm tired of it."
Union is considered one of the most beautiful women in the industry, and through her efforts to represent black women and their struggles, she has been earning the affection of fans across the globe.
Please fill in your e-mail so we can share with you our top stories!