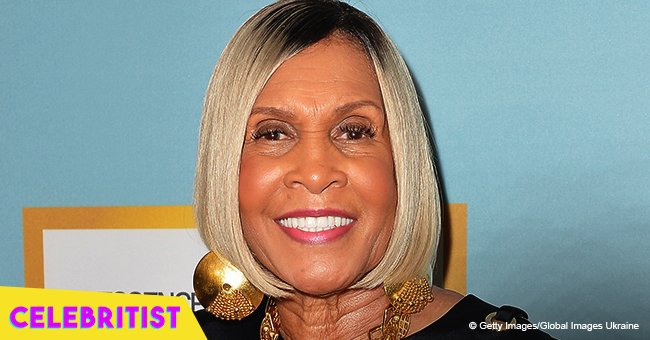 Robbie 'Sweetie Pie' Montgomery , 78, turns heads in red jacket in pic with 2 grandsons

After her reality TV show "Welcome to Sweetie Pie's" ended earlier this year, Robbie Mongomery has had more time to spend with her grandchildren.
She recently shared a photo of her in a vibrant red jacket while cuddling up beside her two grandsons. In the photo, she could be seen hugging her grandson TJ, who was celebrating his 7th birthday.
With her other arm, she was carrying her other grandson AJ, who was peacefully sleeping while cuddled up to his grandmother.
While Robbie and her grandsons are in good terms with one another, it hasn't always been good between their father, Tim, who was sued by his own mother for stealing money and misusing her trademarks.
According to Biz Journals Montgomery accused her son of copying her trademarks to open up competing restaurants.
She filed lawsuits in the Eastern District of Missouri after she found out that her son was misappropriating her restaurant's funds and accounts. Sweetie Pie's In The Grove has since then closed down.
Norman has been withdrawing "substantial amounts of money" from the accounts and used it to open his own restaurants in North Hollywood, California, Berkeley and Florissant, a suburb of St. Louis. He also refused to return the money.
According to the lawsuit filed, James was violating Sweetie Pie's trademarks, as they have been registered with the U.S. Patent and Trademarks Office since 2006.
There were only two "authorized" Sweetie Pie's locations, but he put up his own "TJ's Sweetie Pie's" in NoHo, Berkeley, and Florissant which were not authorized.
Robbie first entered the restauranteur business in 1996, when she opened up the first Sweetie Pie's in Dellwood
After gaining some popularity, her family's story was then turned into a reality TV show and was widely popular in the United States prior to its last season that ended earlier this year.
Now, she has been taking time to focus more on her business and spending more time with her family despite all the issues that have transpired between them.
Please fill in your e-mail so we can share with you our top stories!