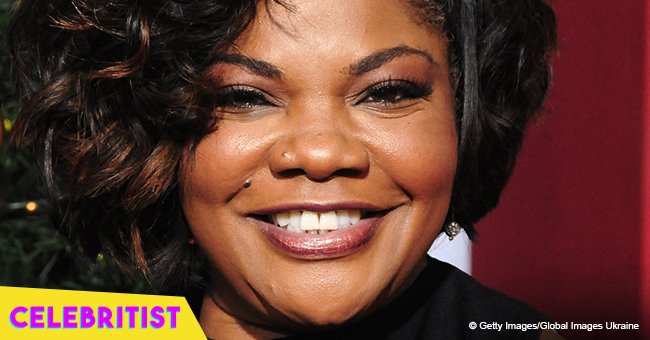 Mo'Nique flaunts slender legs in tight pants and pink top after major weight loss
The actress and talk show host has gone on a weight loss journey in the last few months, and has made sure to keep all her fans up to date with her progress by sharing plenty of photos to her social media.
Mo'Nique, a celebrity who has always been an advocate for bigger women who society judges as "too large," recently changed her attitude to her own appearance, realizing it was negatively affect her life and her health.
Since then, she has started to systematically lose weight. She changed her diet completely, and started to follow an almost daily exercise plan with a personal trainer.
A recent photo shared to her Instagram account shows just how much weight she has lost.
In the shot, where she can be seen walking through a glass revolving door, she is markedly smaller than fans are used to seeing her.
She wore a pink and red streaked button-up blouse with a ruffle around the collar and the hemline, and a pair of black pants. She completed the look with a pair of black peep-toe pumps and a black headband to hold her greying hair back.
"BE YOUR OWN SUPER MODEL. Sisters never STOP HAVING A GOOD TIME." she captioned the lovely shot.
Mo'Nique shared that her attitude change came after a conversation with her husband, Sidney Hicks.
He had asked her what she weighed, and when she told him he expressed concern that she was too heavy, and that he desperately wanted her around for a lifetime, which wouldn't happen if she didn't focus on her health.
"[He] said, 'Mama, that's too much weight. I want you for a lifetime.' In that moment, I went through embarrassment. I went through guilt. I went through shame, but I had never felt a love like that before. So, that night was when the decision was made: 'I gotta save my life,'" she said.
Now, Mo'Nique tries to use her own story as an inspiration to other women who hope to lose weight as she has done.
She regularly takes to her Instagram account to share videos of her exercise routines, most of which include plenty of dancing, either alone, with her son, or with her trainer.
And she always includes a motivational message in the caption for her followers as a pick-me-up.
Mo'Nique and Hicks have been married to one another since 2006, and have an open relationship, something they've had to defend on numerous occasions.
When she spoke about their arrangements on Watch What Happens Live, she stopped Andy Cohen in his tracks when he tried to ask her about her and Hicks' rules in the bedroom.
"The rule is simply honesty," she said. "When you start asking people about relationships—What about this one? What about that one?—often times with people we can't say, 'This is how I'm feeling.' You find out, it's so not about sex. It's so not about, 'Can you be with other people?' t's simply about I won't take any secrets to my grave nor will he take any to his. We've been married for a decade now."
The couple has even launched their own podcast on the subject to explain their arrangements and even to encourage others to try it for themselves.
Please fill in your e-mail so we can share with you our top stories!