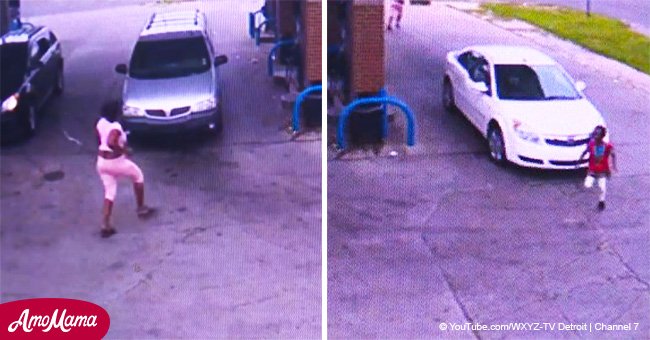 Thief attempts carjacking with 7-year-old still inside the vehicle
This little girl realized the danger within a split second and quickly made her escape before it would be too late, essentially potentially saving her own life.
A thief jumped into a gold 2004 Pontiac Montana minivan at a Detroit gas station on July 31, while the female driver was inside the store paying for the gas. What he might not have realized was that her 7-year-old daughter was still in the vehicle.
Fortunately, the little girl had the presence of mind to quickly realize what was happening, and she jumped out of minivan and ran as the thief started to drive away in it.
Security footage from the gas station shows the girl's quick thinking escape, as her mother came running up to her fleeing vehicle.
Her mother, in a panic about her child and unaware that the girl had run out in the opposite direction, was sprinting towards the vehicle as it sped away, chasing it to the curb where she realized she wasn't going to catch it on foot.
Iyad Mohmad, a clerk inside the store, described what happened next as the mother climbing into another customer's vehicle at the gas station to give chase of her car, still believing her daughter was inside.
Instead, her daughter made her way into the store in tears.
"She was crying so much. It was so bad. I couldn't believe it, you know," Mohmad said. He offered her something to eat and drink, and called the police, and reassured the little girl that he would take care of her until her mother came back.
Her mother returned to the store with some family members, relieved to know that her little girl was safe.
Mohmad added, "She thanked me for that, it was an amazing moment to see her daughter back."
The suspect managed to escape, and no one was injured in the incident.
Please fill in your e-mail so we can share with you our top stories!