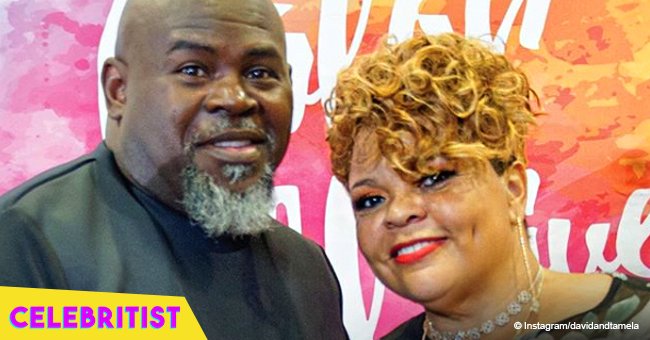 David & Tamela Mann's son shares photo with his wife & their little kids in matching outfits
David Mann Jr. is the only son of Tamela and David Mann. At his 29-years-old, he's already married and has two adorable kids. The DJ and businessman recently took his family on a magical trip to the happiest place on earth.
After appearing with his parents on TV one's reality "The Manns," he and his wife Chantal have earned lots of fans across social media. Their relationship is one of the funniest to watch on the show, as David Jr. loves to make everyone around him laugh with his lighthearted personality.
The family of four, including son DJ and daughter Jayda, recently visited Disneyland, and David was focused on giving his kids a great time at the magical place. Dressed appropriately for the occasion, the family wore matching blue t-shirts with a Mickey Mouse logo printed on it featuring an overlaid image of Black Panther.
Each t-shirt has its owner's name on it making it clear that while they're a united family, they have their own identities as well. Smiling brightly to the camera and wearing accessories such as sunglasses, caps and a hat in David's case, the Manns were more than ready to enjoy a day filled with fun.
David took to his caption to share with fans the importance of their family trip as he said:
"Never had so much fun and been so happy to give them what my father and mother gave me happiness.... just glad that I can see her smile @im_channiemann. I was put here for her, to make sure that all her dreams and my kid's dreams come true. Im learning how to coach now .... a coach puts his players in a good position to be successful and that's What I want to do for them. Dang I sound like Rev Run at the end of runs house lol."
The happy couple also has a YouTube channel, where they shared a vlog from their five-day Disney trip. In the video, they showed their kids going into several rides, meeting Disney's princesses, watching the summer parade, enjoying the park's food and even celebrating their son's birthday.
Chantal revealed in the video that it was her dream to visit Disney World as a child, but her family struggled with money, so it was impossible for them. She wrote:
"Christmas 2017, my husband surprised me with a trip to Disney World for Summer 2018. I have always wanted to go to Disney since I was a kid, but money was a factor, as it is in a lot of families."
And continued:
"We went during the week of our son's D3 birthday, so it was a double bonus that we got to attend during his birthday. We spent 5 days in Orlando and it will be a trip that we will always remember and hopefully be able to go back the next year and years to come."
Watch David Jr. and Chantal's vlog below:
Please fill in your e-mail so we can share with you our top stories!