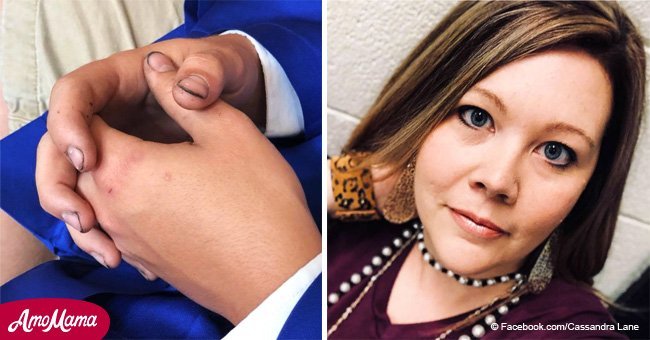 Mom shares touching story behind teen son's dirty finger nails in senior picture
Casandra Lane shared a story of her hardworking son and an important message about parenting for all the mothers who have ever doubted their own parenting.
Lane took to Facebook to tell about her recent visit to take her son, Zeke's senior yearbook pictures. On the way to the place for taking pictures, she noticed his work-stained hands.
To her, his hands felt much familiar to that of her husband's during the early years of their marriage. She thought he would not have to worry about it since they were only doing headshots.
However, upon arriving at the place for taking photographs, she was a bit shocked to see other children in letterman jackets and class rings.
Follow us on Twitter to learn more.
She then realized that her son did not have any of those things. On top of that, he had dirty, work-stained hands. This made her rethink her own role as a parent in Zeke's life.
'I began to tear up. Have I given him everything a parent should give to their child as he has grown up? He works out in the heat, 30-40 hours a week during the summer. He didn't want a class ring or a letterman jacket. He didn't get a new car,' she wrote in her post.
She explained that her 'mommy comparison game' told her that she had not given him as much love as he deserved. She even apologized to her son while reflecting on these things.
Zeke, however, had a much encouraging thing to say to her. He explained to her that she had no reason to apologize because she has taught him more valuable lessons in life which are greater than any other material possessions.
"Why are you sorry? Because you've taught me to work hard for things I want? Because I know the value of a dollar? Because I'm not going to think that I deserve to have everything I want?" she quoted her son as consoling her.
She now takes huge encouragement from her son's words and wants to remind every mother out there to not struggle with the 'parenting comparison game.'
She wanted each mother to realize that God gave them her baby because He wanted her to be their mother and not anyone else.
Please fill in your e-mail so we can share with you our top stories!