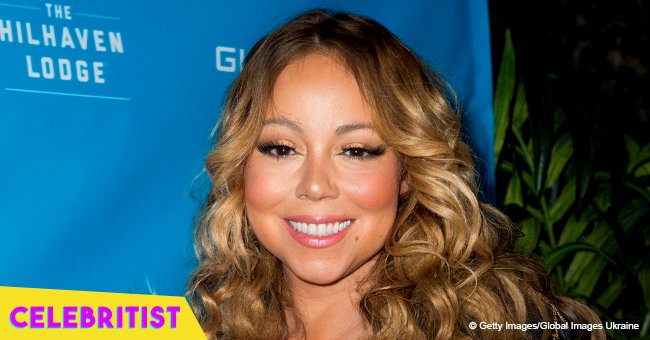 Mariah Carey stuns in long colorful dress in recent picture with her children
Mariah Carey and her lovely twins join the list of iconic music artists who are set to be a part of the September issue of Harper's Bazaar. The beautiful mother-of-two sported a long colorful skirt and a black tube top for the shoot, which showed off her curvy physique.
Seven-year-old twins Moroccan and Monroe posed alongside their superstar mother for the iconic issue. Mariah definitely knows how to make a statement, donning a gorgeous multi-colored skirt and a black tube top. Beside her, Moroccan carried their family puppy, who seems to be fitting in the family picture quite well. Prior to the release of the issue, Hello shared some sweet things said by Mariah herself about family.
"Family is the most important thing to me. My children have provided me with such joy as they've developed their own unique personalities."
The 48-year-old mother shares her two kids with ex-husband Nick Cannon, whom she separated from in 2016. While most celebrity divorces end in flames, Nick and Mariah actually separated amicably, and continue to co-parent their two children.
During the Television Critics Association summer press tour, Entertainment Tonight said some kind words about the snap, which is set to come out on the publication's September issue. According to Cannon,
"I love what Harper's did with the whole thing. [They] captured real authentic moments and you could see [with] the twins and Mariah, that was a true moment, like they all had genuine looks on their faces of happiness and joy."
While they have been enjoying some quality time with their mom both at home and in the studio, both Moroccan and Monroe make sure not to miss spending time with their dad as well. According to Cannon, he has been spending time with his kids at the recording studio, after they expressed their interest in music.
"My daughter really wanted to learn piano so I kind of taught her a little bit when it comes to piano. My son has always been into drums and he's like a little tech geek too, so, like, engineering and all that stuff, he's into that. I can see him being a producer or something."
Nick sees the importance of starting them young, saying that it is not only fun for them, but it also allows them to hone their skills this early on.
Mariah and Nick were married from 2008 to 2016, and they have continued to stay friend despite everything. When asked about his new show "The Masked Singer", he said that one artist who will most likely not be joining is his ex-wife - because she is just too good.
The relationship between these two lovers are just admirable, and it's no wonder their two children are growing up to be such charming human beings.
Please fill in your e-mail so we can share with you our top stories!