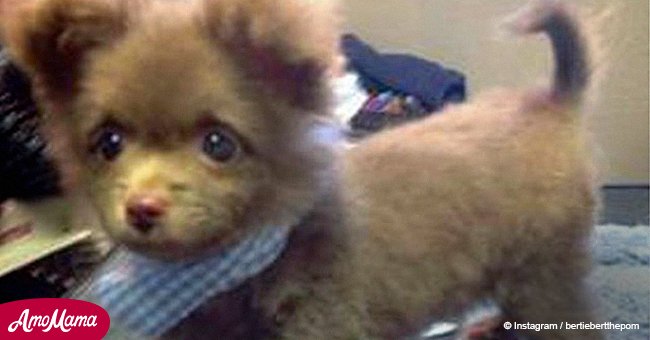 Little puppy abandoned because he was 'too big' but now he's the star of an art gallery
Bertram the Pomeranian may have been ignored and abandoned by his breeder, but his mother, Kathy Grayson, made sure he felt included in the family.
According to his Instagram page, the Pomeranian, a social-media star, now works at a gallery called The Hole in New York City.
Born in May 2013, Bertram had a tough time growing up. He was left behind by his breeders as they felt he was "too big to sell."
However, an artist from New York, Kathy Grayson, found him on Petfinder and decided to adopt the five-month-old puppy.
He was listed as "Jasper" on the advertisement. Grayson thought something in his eyes caught her attention.
"I flew to Tulsa and drove to the town to pick him up; it was a wonderful adventure. The shelter was sad to see him go; he had gotten some special extra love there."
Grayson took him to her gallery where he became incredibly popular. His new owner decided to open an Instagram account for him.
It turns out the internet too loved Bertram the Pomeranian, and he now has 164,000 fans following his every move.
He works as an "art connoisseur" in The Hole in New York, Grayson's gallery. She confessed that she enjoyed the fact that people come to the gallery just to see Bert.
In fact, some people also get their dogs so they could meet the star. Grayson urged more people to come over to her gallery which is open to the public.
She is not surprised by his social media success. She said that the "wonderful guy" makes everyone happy. She believes that the internet is for such cute animals, who provide "an antidote to all the nastiness."
The dog is calm, inquisitive, and silly, according to his owner. She decided to give him his own Instagram page because she wanted to post paintings on her feed.
He was taking over her art gallery page as everyone wanted to see her dog.
According to The Dodo, he has been to several openings, and to dozens of art fairs in New York City, Los Angeles, Miami, the Hamptons, Seattle, Washington D.C., and even to Canada.
Bert is now five years old, is living a happy life with Grayson and is probably feeling included.
Please fill in your e-mail so we can share with you our top stories!