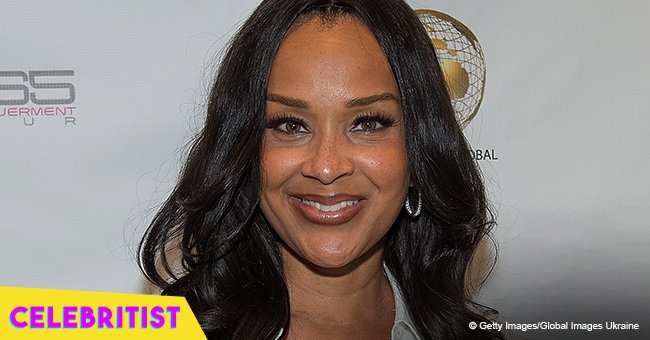 LisaRaye McCoy and her fiancé are all smiles in photo after their engagement on 'The Proposal'
The American actress, model, businesswoman, and fashion designer has recently announced that she and her beau will be taking a big step in their relationship together.
LisaRaye McCoy is engaged! The good news was revealed on the latest episode of the dating show The Proposal where the actress found her match. She reveals her choice came down to a matter of inches but is now basking in the early stages of her new love.
McCoy has finally found the man she intends to marry, thanks to her recent stint on ABC's The Proposal.
The 51-year-old actress has already suffered through two failed marriages, had almost given up on the institution as she seemed to be so unlucky in love.
Since her second divorce, she has tried everything from online dating and hooking up with no success for a long-term relationship. McCoy considered the crazy idea of finding her match on The Proposal, after a friend, a producer of the show, suggested it.
The series, which premiered last month, is the brainchild of The Bachelor creator Mike Fleiss.
Described as a mix of the Miss America competition and The Wizard of Oz, the show employs 10 suitors to vie for the 'yes' of a male or female lead whose identity is concealed from them until before right they propose.
Through various rounds, contestants are forced to make a first impression, show off their bodies, and answer personal questions. Those that don't make the cut are sent home.
McCoy, who started taping for the series a few months back, hinted at her participation three weeks ago when she posted this message on Instagram along with a photo of herself.
"I heard @abcnetwork Has a new show called The Proposal and they are helping people find love. 1 Question? Where do i sign up? ALL I know is i will be tuned in tonight to find out #readyforlove #theproposal #summerlove #Liferocks #abc."
On July 9, she confirmed she was going to be part of the show as she invited her followers to tune in for its premiere and asked for their help in choosing the perfect dating profile pic.
"Hmmmm Which one of these photos should i use for my dating profile?? #swipeleft ............................ Dear @Abcnetwork I want to find love, with a side of adventure a dash of laughter and a Tall glass of good god almighty he is fine dont forget to sprinkle on some intelligence and garnish with faith driven powerful success... Matter of Fact i want yall to Tune in to #theProposal on ABC tonight @ 10pm I will be going live & yall can help me finish my "Mr. RIGHT" Profile #readyforlove #theProposal #summerlove #Liferocks #single #mrright tag abc so i can takeover they're live feed tooo."
And finally, the day of McCoy's episode came, revealing the man who did end up proposing to her: Chicago sales representative Anthony Bryant. McCoy explained Bryant had won against his competition by just a few inches.
"It was down to the last two guys that I had to choose from. I looked at the other contender, which was (Florida firefighter) Adonis (Gonzalez), and he was just a little shorter than what I prefer, and so I went with Anthony."
Bryant is a 44-year-old divorcee who attended the same University McCoy went to, Eastern Illinois University. During the competition, he wooed the actress by reciting a poem shirtless and talking about his young son.
When it came to the proposal, he used his Chicago roots as an edge as he got down on one knee with a Neil Lane ring.
Since the episode was already taped months prior to airing, McCoy revealed that she has enjoyed their long-distance relationship despite her busy work schedule and the conscious effort to keep their relationship under wraps until after their episode was seen.
Though she doesn't plan to move to Chicago to be with her fiance, she does intend to enjoy every second getting to know him.
"As far as the marriage thing, we haven't even thought about that yet. We just really want to get to know each other and have some fun while doing so," she explained.
Speaking to Eurweb, McCoy explained that while many may see their relationship as strange, she and Bryant both knew what they were getting into. Both have been married and have divorced, and neither one of them is in their 20's anymore.
The actress has also said she won't be sharing any details about their wedding plans, as they have yet to make any decisions regarding the big day anyway. She also wants fans to have something to "keep fans on edge."
McCoy is also a grandmother to an 18-month old baby girl by her only daughter, Kai Morae Pace. The 51-year-old absolutely dotes on the little girl, who was born in December 2016 as Bella Rae.
Proud grandma often takes to her Instagram account with photos and videos of the adorable baby girl. On the 4th of July she posted two video clips of herself and her granddaughter with Independence Day themed filters.
The first clip saw the pair relaxing in the pool, with McCoy holding the little girl up in the water.
The second clip saw Bella Rae leaning on her grandmother with a headband of American flags in hearts floating about their heads from a filter.
McCoy also recently took to the social media site with a video collage of photos of herself and Bella Rae attending a church sermon on Sunday morning.
While the little girl looked somewhat nonplussed by the occasion, McCoy was clearly delighted to be sharing her faith with her granddaughter.
The sweet little girl wore a white lace dress to the church, and a white headband with a delicate little flower on top of her head.
McCoy debuted her granddaughter on her Instagram account when the littel girl was 2 months old, and showed the infant sleeping on her chest.
Please fill in your e-mail so we can share with you our top stories!