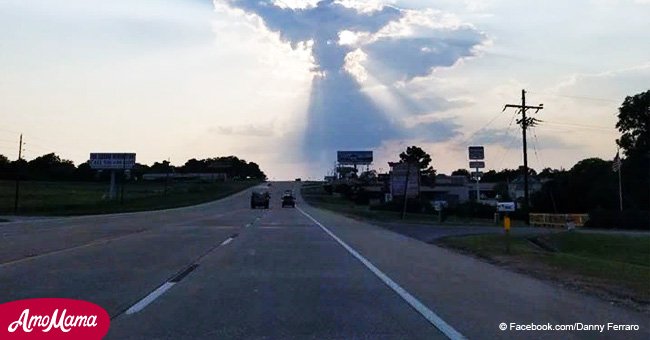 Man snaps photo of 'angel' that appeared in the clouds over Texas
A driver from Texas, named Danny Ferraro, was at the right place and at the right time to capture a photograph of a cloud formation that resembled an angel.
Last Tuesday, July 31, 2018, Ferraro was driving west on Highway 105, in Montgomery, with his wife Carmen when he happened to notice the strange-looking image in the sky.
The 57-year-old immediately grabbed his phone and took a picture of the cloud angel and didn't waste any time sharing it with the world through his Facebook account.
According to Ferraro, he was just focused on the road, watching car after car pass them by when he glanced up and saw the big angel facing them from the sky.
Please consider following us on our Twitter account @amomama_usa to learn more.
The couple tied the knot a month ago and was returning home after their honeymoon, but even though they had spent a romantic time together, things weren't going well.
Ferraro revealed that the past few weeks had been very rough due to family issues and that they were hoping to be able to fix some of them, which was why they were so pleased to see the angel made out of clouds.
The father-of-seven saw the angel as a sign of God, as if it was His way of saying that he was always with them and that everything was going to be just fine.
The photo of the angel made out of clouds with the beautiful rays of sunshine behind it was a success on the internet and, so far, it has been shared by over 18,000 people.
Just like he saw the angel, Ferraro believes that others have seen it as well, and, perhaps, even they might believe it to be a sign of God, Who is said to reach out to those who believe Him through miracles.
Please fill in your e-mail so we can share with you our top stories!