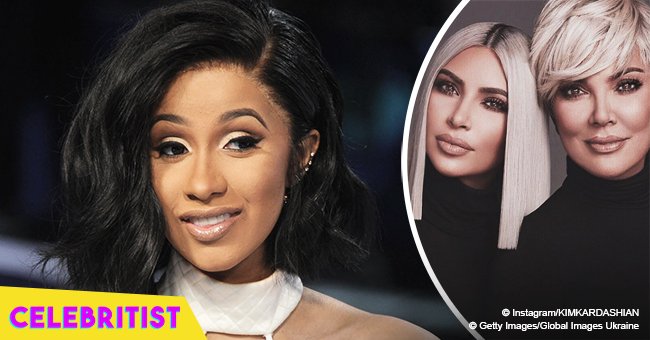 Cardi B claims she's 'officially' rich after partying with Kim Kardashian and Kris Jenner
The American rapper recently joked that she's finally "part of the rich club" after spending some time with two of the best known reality television stars.
25-year-old Cardi B has had a busy year. In 2017, she married her husband, Kiari Kendrell Cephus, better known as hip hop artist Offset, and welcomed a baby girl in 2018 who the couple named Kulture Kiari.
And while she's become fairly famous in recent months, her name doesn't hold quite the same stature as the likes of Kim Kardashian and Kris Jenner.
Recently, Cardi B joined the mother daughter reality stars for a night partying, gathering at Kardashian's home in Los Angeles. The trio spent the evening taking selfies for their Instagram accounts.
Cardi B was delighted to spend the evening with the famous family, and wrote in her caption of the shot that she was finally "apart [sic] of the rich people club."
It's safe to say Cardi B has reached new levels of wealth in 2018, even without the help of the Kardashian clan, given that her album has gone platinum and multiple singles have gone platinum too.
"Im officially apart of the rich people club!! I'm not poor anymore mwaaaaahahahaha!! P.s I'm selling one of @krisjenner napkins on eBay!!"
Jenner also took to the comments section to joke that she wanted 10 percent for the sale of her napkin.
Her light blue hair was tied up in a bun on top of her head, and appeared to be wearing a loose-fitting dark green wind breaker jacket.
Meanwhile, Jenner leaned in to rest her head on Cardi's shoulder, and Kardashian snuck into the photo on the other side with a peace sign and her tongue stuck out. The three appeared to be perched on a cream sofa.
In just one day, the post already had a whopping 4.6 million likes.
There were plenty of filtered selfies taken during the course of the evening, and also a number of short video clips. Kardashian posted some to her Instagram stories as well, which have unfortunately vanished after the 24 hours passed.
Please fill in your e-mail so we can share with you our top stories!