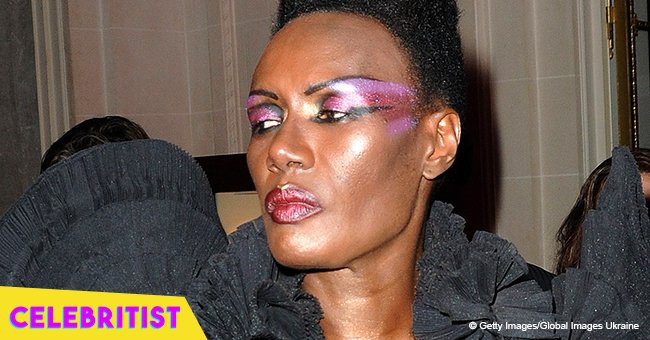 Grace Jones, 70, covers her body in white paint & wears a statement head dress at Bestival
Jamaican-American model, singer, songwriter, and actress Grace Jones attended the Bestival at the Lulworth Estate in the UK. Her outfit was outstanding.
As Daily Mail reported, the 70-year-old woman is known for the dramatic wardrobe she often chooses for her presentations, and the concert held on August 4 was not an exception.
She put on a black leotard that put most of her body on full display. Apart from that, she put on extravagant headpieces and oversized robes. Even though those wonderful clothes were striking, the highlight was the white paint she used to cover most of her body.
Drawing different forms that resembled the images found in ancient caves, Grace made sure that she looked as good as possible.
Daily Mail added that, at one point of the show, Grace wore a golden skull on her forehead that made the crowd go crazy.
Apart from her outfit, her radiant complexion and strong figure attracted a lot of attention.
She also revealed that director Sophie Fiennes took twelve years to create her documentary about Grace titled Grace Jones: Bloodlight and Bami. Apart from that, she explained what they chose that name.
"When you are in the studio with Sly and Robbie there is a red light that goes on and off when you're not supposed to go in the recording studio, and they say, the bloodlight is on, so that's the bloodlight," said Grace.
The singer added: "Bami is a food I love in Jamaica, very healthy, but you can fry it, you can bake it, you can boil it, so when you get jerk - everyone knows about jerk chicken - they serve you either Bami or festival. I don't like the festival; I like Bami, so, I just say, 'I'm a Bami girl.'"
According to the Bestival's official website, it is a four-day music festival held in the south of England. It is organized by DJ and record producer Rob da Bank, as well as his wife, Josie.
The Bestival has been held since 2004, and more and more people have been attending the event year after year.
Please fill in your e-mail so we can share with you our top stories!