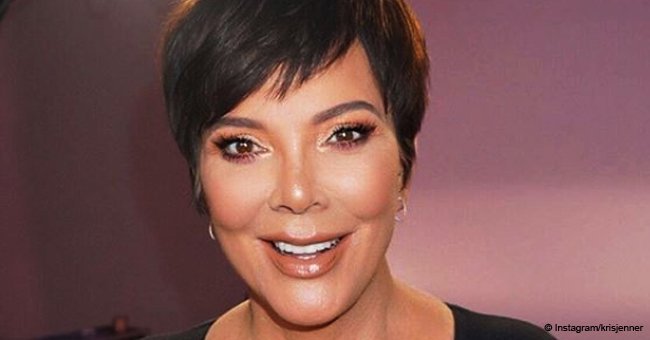 Kris Jenner, 62, flaunts slender legs in preppy mini-dress during date with 37-year-old boyfriend
The famous momager stepped out with boyfriend Corey Gamble to have lunch at an exclusive restaurant in L.A, after visiting her youngest daughter's pop up store.
If there's something Kris Jenner's good at, is managing her and her family's time. The 62-year-old matriarch of the Kardashian family is always busy running her businesses, helping her daughters with theirs and making sure to spoil her younger boyfriend.
Last Wednesday, Kris was caught heading to lunch at the Nobu spot in sunny Malibu in the company of her beau, Corey Gamble, as reported by the Daily Mail. The couple walked side by side to the sea-side restaurant, and they looked stylish as usual.
Jenner went for a casual but classy look featuring a striped white and orange dress with frilled details that went around the neckline and down the front of the garment. The long sleeved dress reached a knee length, putting Jenner's toned legs on display, even though she covered then with skin colored fishnet tights.
Kris completed the look with spiked strappy white stilettos, sunglasses, and a black handbag. Corey, on the other hand, went for a blue polo t-shirt, white cargo shorts, and blue sneakers. He rocked sunglasses too and kept a protective hand around Kris as they walked together
At some point the same day, Kris found time to attend the opening of Kylie Jenner's new pop store, which has been created to sell the soon to be 21-years-old birthday makeup collection and will close a few weeks after her big day on August 10.
The momager shared pics from the event on her Instagram, posing in the same dress against a backdrop made with red plastic cups that read "Kylie." The supportive mom wrote in the caption of her post:
"At the @kyliecosmetics pop up shop today at @westfieldcenturycity!! It looks so incredible!! Everyone stop by to be the first to shop Kylie's birthday collection before it launches online on August 6! #KylieCosmetics #Birthday #PopUp #ProudMama"
Kris and Corey have been dating since 2014, and even though there doesn't seem to be an engagement on sight, the couple is attached at the hip.
A few weeks ago, they enjoyed a romantic summer vacation off the South of France and around several Italian islands.
The couple reunited with friends like designer Tommy Hilfiger and his wife, and Steve and Marjorie Harvey, and had a great time aboard several luxurious yachts before heading back home just in time for the premiere of the new season of "Keeping Up With The Kardashians."
Please fill in your e-mail so we can share with you our top stories!