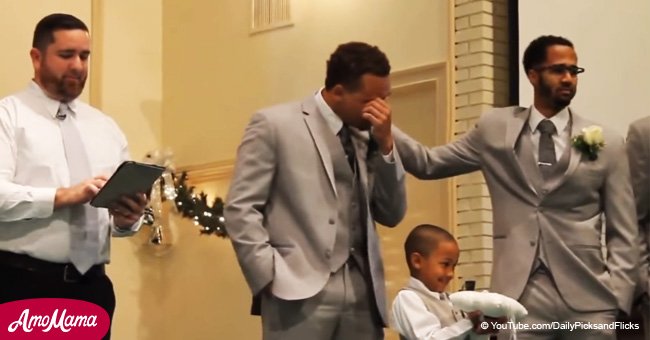 Groom breaks down in tears watching bride walk down the aisle in a dazzling dress
The groom couldn't wait to marry the love of his life, and his reaction to seeing her walking down the aisle has social media users across the internet in tears.
Will Caesar married his wife, Lindsey Ceasar, in early December 2015. Shortly after the couple tied the knot, a video surfaced of part of the ceremony, and the clip quickly became emotional.
The couple, who haven't always had the easiest relationship, credit each other with making it worth through their faith and tenacity to be together forever.
Will and Lindsey first met at the First Assembly of God church in Eufaula, Alabama, the same church where Will would later propose to Lindsey, and the same place where the couple said their "I do's" in 2015.
The couple have fought through "social status, spiritual, emotional obstacles," to get to their wedding day, according to The Knot.
Will claimed it was her faith, and their individual prayers for their successful relationship.
She just wanted to take care of me. She was indeed a friend first," he told The Knot. "She loved me where I was at, even at my lowest. She was there. She's always been there. Thinking over our history and everything we've been through. All of the struggles."
At the moment when Lindsey walked through the doors, dressed all in white, to come and marry him, everything they had been through came to a head for Will, and he was utterly overwhelmed by the sudden flood of emotion.
While Lindsey confessed that Will wasn't much of a crier, she knew that his emotions would get to him when she walked down the aisle.
And going by the video clip posted by one of their friends after the ceremony, Lindsey should have put money on that bet.
Will absolutely could not control his tears, so much so that the best man tried to comfort him with a firm hand on his shoulder, but to no avail.
He explained what he was feeling in that moment to The Knot:
"I'm at the altar and I'm looking down the aisle anxiously awaiting the doors to the church to open. I see those doors open and my wife is there. In all white, glowing, radiant, breathtaking. My life is walking towards me. My future is getting closer. My present is right there. She's my gift. Heaven sent. All I could do was weep in joy and excitement and bliss and happiness. She was finally about to be mine."
With the video focused entirely on Will, Lindsey's reaction is unknown, but she later shared she hadn't been able to control the tears either.
"When I first saw him crying, I was already crying," Lindsey revealed. "I'm a cryer, that's what I do. But when the doors opened I took a breath and paused for a moment."
The video clip has been shared over Faceboook more than 111,000 times, and has over 99,000 reactions on it.
Alyssa Hudson, the friend who shared the video, wrote on the post: "One day I hope to find a man that looks at me the way Will Ceaser looks at Lindsey Ceaser" aptly captioning the feeling of the women in the comments section.
Please fill in your e-mail so we can share with you our top stories!