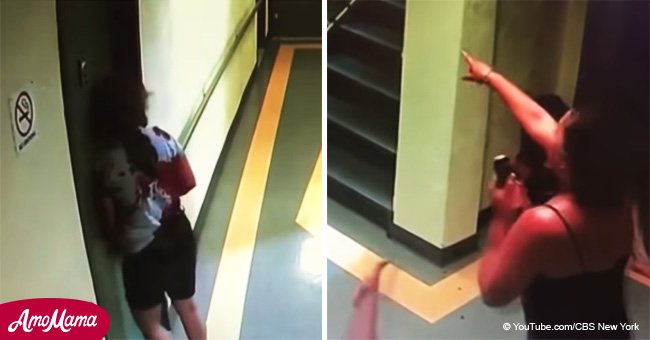 Home health aide stabbed multiple times by grandson of woman she was helping
Horrific video shows a bleeding home health helper, Maria Rios, staggering around in a hallway after she was allegedly stabbed numerous times by the Marcus Gomez, the grandson of the woman she was looking after.
The incident occurred in a building in the Bronx, on West Farms Road and the surveillance video shows the 62-year-old Rios, bloodied due to multiple wounds to her head, face, and chest, NBC New York reported on July 31, 2018.
Police have said that the accused, 45-year-old Marcus Gomez, had been at the Creedmoor Psychiatric Center on Queens before arriving at his grandmother's senior housing facility.
Read more on our Twitter account @amomama_usa.
Rios appears to be stupefied as she is seen banging on the neighboring doors for help.
One woman opens her door but immediately closes it after she sees Rios and calls 911, NBC reported.
Another woman, Maria Guardiola, who came out of her apartment to walk her dog, hurries to Rios' side.
"When I opened the door, and I saw her there, I started screaming. She was bleeding all over, and she was telling me, 'Call my husband.'"
Maria Guardiola, NBC Network, July 31, 2018.
The cops arrived after the 911 call, and Rios was immediately taken in for treatment.
The accused attacker, Gomez, was discovered by police in another apartment on the same floor where he allegedly attacked Rios.
The video shows Gomez, wearing a pink nightgown, being taken into custody by the police. According to the police, it is unclear as to why Gomez reportedly attached Rios.
Despite suffering from serious injuries, Rios is expected to survive according to the network.
Gomez, on the other hand, is facing several charges. NBC tried to contact Creedmoor Psychiatric Center, but there was no response from them on the same day.
CBS New York reported that Rios was a home health aide who cares for a 90-year-old woman with dementia.
She was recovering in the surgical ICU wing of the Lincoln Hospital. The video showed Rios walking from door to door seeking help.
CBS uploaded this uncensored video on YouTube. Sensitive viewers are advised that it contains content of a graphic nature.
Please fill in your e-mail so we can share with you our top stories!