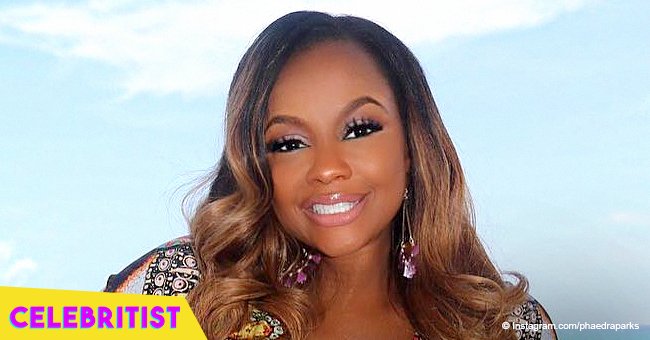 Phaedra Parks melts hearts with video of sons dancing in cute swimsuits
Single mother Phaedra Parks takes pleasure in her two boys and the latest video she posted of them is a testament to that. Her children haven't seen their father Apollo Nida in two years as he currently serves an eight-year sentence for fraud.
Phaedra Parks recently delighted in her sons taking on the Keke Challenge in a video she posted on her Instagram. The mother-of-two who shares her sons Ayden, 8, and Dylan, 5 with her ex-husband, Apollo Nida, couldn't help but laugh at the two boys as she held on to the camera and cheered them on.
It's been two years since Phaedra's boys saw their father who's currently incarcerated. In June, the 'Real Housewives of Atlanta' star revealed she's been keeping their sons away from prison because "it's just too hard on them." The boys reportedly communicate with their father on the phone every other day.
In July, Apollo's fiancé Sherien Almufti slammed Phaedra for preventing the former 'RHOA' star from seeing his children. According to Sherien, Apollo misses his kids and constantly sends them gifts and writes them letters every chance he gets. She hopes Phaedra resolves her issues with her fiancé for the sake of the kids. In the meantime, she looks forward to being a stepmother to them once she marries Apollo upon his release from prison in 2020.
With their father away, it's Phaedra who's been taking on the responsibility of raising her two boys and her Instagram posts reveal her joy just being with them.
The video she recently posted has Phaedra in stitches as she witnesses Dylan and Ayden performing for the trending #inmyfeelings challenge.
Both dressed in swimsuits and with goggles on their heads, the duo strutted as their mother chanted, "KeKe go, go, go!" repeatedly. When Dylan realized her mother was capturing the whole thing on video, he registered a look of curiosity and slowed down to a halt. Phaedra noticed his change in mood and explained it in her caption.
"When KeKe got you #flossing#inmyfeelings until the #President realizes he is being recorded #NOLA #travel with #kids #momlife"
In 2014, Dylan and Ayden's father was sentenced to eight years in prison after pleading guilty to charges of fraud. He reportedly stole millions of dollars from at least 50 people in four years. This is Apollo's second time in prison. He previously served five years in federal prison for auto title fraud before his marriage to Phaedra in 2009.
Please fill in your e-mail so we can share with you our top stories!