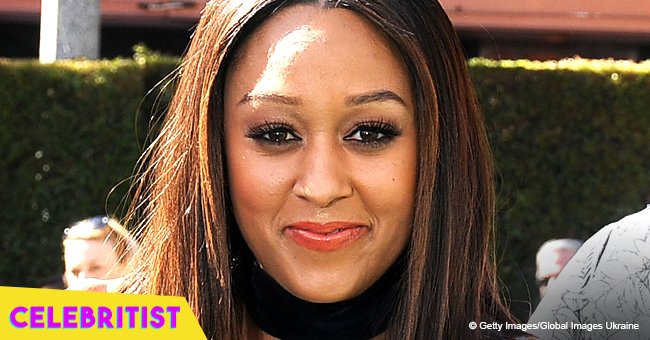 Tia Mowry shares adorable selfie with baby daughter and 7-year-old son
Tia Mowry reflects on what motherhood means to her in her latest post featuring her two children. The proud mom recently opened up about the changes she's encountered since welcoming her second child and what she's had to pull back on as part of her adjustment.
Tia Mowry is a proud mother-of-two who recently posted an adorable snap of her seven-year-old son and 4-month-old daughter, much like the many times she has done in the past. In her latest, she poses the question "motherhood What does it mean to you?" encouraging other moms to join in on a discussion.
Since welcoming her second child, daughter Cairo, in May, motherhood has had a new meaning for the newly-turned 40-year-old. During an interview for her partnership with Office Depot, Tia revealed the dynamics changed after two children.
"Usually, I would say with just one kid, I'm taking one day at a time. But with two kids, I'm taking two steps at a time. I'm only looking as far as my two feet can go."
Tia adds that she usually gets overwhelmed, but she's giving herself time to adjust.
Having two kids also means setting aside her own needs to make time for her children. And that means pulling back on her intentions to get back into shape quickly. She now values the importance of taking her time.
"I'm just taking my time, and I'm also allowing women out there that you don't necessarily have to go back to yourself right away. It took you almost ten months or a year to grow a baby. And it's going to take time for you to get back to yourself."
That's not to say Tia isn't planning on getting back into shape at all. She just doesn't want to obsess over it.
"I think it's very important to get back to feeling great, get back to feeling like you were before having a baby but I'm not so fixated on having my abs back and all that kind of stuff. I'm just taking my time."
Meanwhile, Tia is enjoying her time with her children. Fans are witness to the photos of their bonding moments she often shares. Cairo has been making waves with her adorable snaps, and she's become one of the internet's favorite babies.
Tia's latest snap of her two children features older brother Cree issuing a peace sign as he poses alongside a sitting Cairo. Here's that adorable photo that's gained praises in Tia's comments section.
Tia and her husband Cory Hardrict have been married since April 2008 after eight years of dating. They renewed their vows on their fifth year in April 2013 after welcoming Cree
Please fill in your e-mail so we can share with you our top stories!