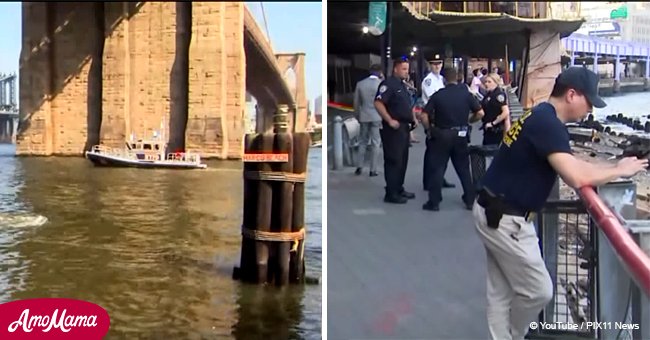 Baby's lifeless body found floating in the river near Brooklyn Bridge
The family had been enjoying a vacation in the Big Apple when they came across the terrible discovery in the river.
46-year-old Monte Campbell of Stillwater, Oklahoma, was in New York City with his wife, Diana, their two sons, and their niece on vacation.
The family had just completed a boat tour to see the Statue of Liberty, and were sitting on a bench next to the Brooklyn Bridge discussing where to go for dinner when they noticed something floating in the water of the East River.
At first, Campbell thought it was a doll floating at the edge of the water. He called 911, but was put on hold. It was at that point that he handed the phone to his wife and went to investigate for himself, reported The New York Times.
He was utterly shocked when he pulled a lifeless baby boy, dressed in nothing but a diaper, from a pile of debris at the water's edge.
"We were trying to see if it was a real baby, it looked kind of like a doll. We didn't know if anyone had actually thrown a baby in there. My dad hopped in, pulled the baby out and started to do CPR on it," said 19-year-old Austin Campbell. "[My father] said that there was no pulse, its lips were a little blue. The way it seemed it hadn't been in there very long."
The police were flagged down on the side of the road, and climbed over the safety fence to investigate the situation. They immediately started performing CPR on the child as they waited for the ambulance service to arrive and take over.
When they did, the baby boy was rushed to NewYork-Presbyterian Hospital/Lower Manhattan, where he was sadly pronounced dead. He is estimated to have been approximately 8 months old.
The police have stated the the child's body showed no signs of trauma. A medical examiner will have to determine the cause of death with an autopsy.
The Campbells took photos and videos of the scene in the hopes that they boy's parents could be found.
Police are investigating the matter, unsure how the tot ended up in the water in the first place, or even of an identity for the baby boy. Police were also unsure how long the boy had been there.
Please fill in your e-mail so we can share with you our top stories!