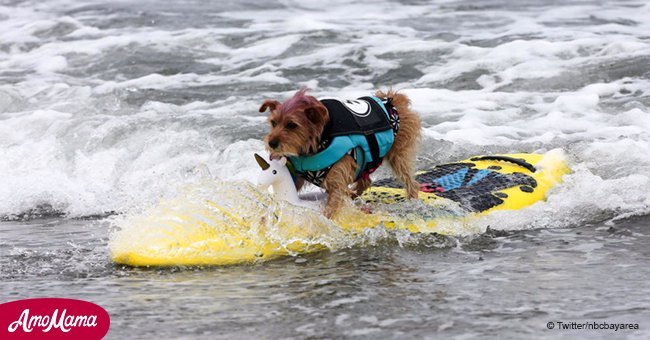 Watch these top dogs battle it out at the World Dog Surfing Championships
About 45 dogs braved the waters during the World Dog Surfing Championships in Pacifica, California. Watch them rip some waves with their owners with these viral videos.
On August 4, 2018, the third World Dog Surfing Championships was held where the best surfer dogs battled to take home the medal while winning the hearts of the crowd with their performances.
Spectators watched the dogs at the event, which was aimed to raise money for two charities dedicated to animals.
The annual event organizes several categories for the dogs. One category has the dog surfing alone, and another one with their owner or with a fellow dog surfer.
Follow us on Twitter at AmoMama USA for more stories about adorable animals.
A couple of contestants shone at the event. One of them was Abbie Girl, an Australian Kelpie rescue owned by Michael Uly, who took home the Spirit of Surfing Award for her surfing prowess and her commitment to surfing.She also won third place in the medium-sized dogs category.
Uly, who had broken his foot, was proud of his dog's achievements and took to Twitter to share the good news.
Another dog, Gidget, a pug who can do tricks like turns on her surfboard, won as the best little dog surfer. She also bagged the second place for partnering with Prince Dudeman. Gidget took home the Goughnuts Top Dog award as well.
Before winning second place in the Pet Renu Medium Surf Dog category, Tristan, a West Highland white terrier, was recorded on video doing practice runs with his dog pal.
As for Derby, a golden doodle, he and his owner Dave Elkinson, became crowd favorites in their matching mohawks.
During the event, Derby won the Stunt Puppy Large Dog Award, second in the Goughnuts Top Dog honors, third for a tandem dog/human performance, and the DOOG Tandem Dogs Award with his partner, Teddy.
Dog-surfing enthusiasts have awaited the annual dog surfing event. With the event held in California, there were, unfortunately, others who didn't make it since it was too far from where they live.
One woman, Rachel Kraus, who lives in Brooklyn, expressed her frustration on the Internet about missing the event.
She said that it's already 2018 and the World Dog Surfing Championships should be streamed live to make it possible for anyone from all over the world to watch the once-a-year event.
Please fill in your e-mail so we can share with you our top stories!