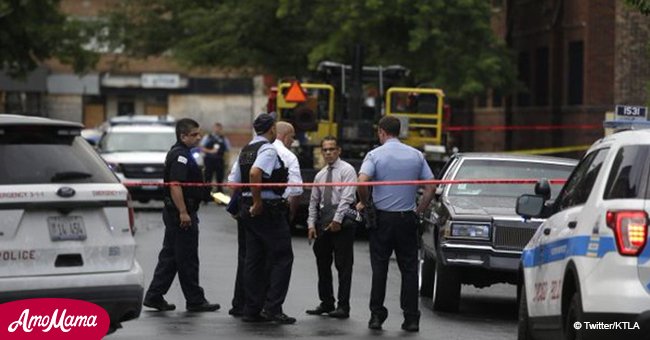 At least 66 injured and 12 dead in Chicago shootings over one weekend
Authorities believe that the multiple instances of mass shooting were not random and were triggered by conflicts between known gangs.
Over the weekend, Chicago was marred by multiple instances of violence, as 66 citizens were shot in multiple shootings across the city.
As reported by CNN, 12 of the victims lost their lives in the shootings that occurred between 6 pm on Friday and 11:49 pm on Sunday.
The Superintendent of the Police Eddie T. Johnson stated that the city had experienced an inexplicably violent weekend of terror.
The massive impact of the shootings has left Chicago's officials in a state of dismay as they mustered up the courage to speak to the press on Monday.
Read more about the latest findings in connection to the shootings on our Twitter account @amomama_usa.
The authorities strongly stated that the perpetrators of the violence needed to be held responsible. They also urged the communities to offer more co-operation in tracking down the offenders.
The number of shootings over the weekend totaled to a whopping 33, and the number of minors killed is disturbingly high. About 14 juveniles have been reported as injured, besides the death of two children of the ages 11 and 13.
The police revealed that one of the shootings took place in the midst of a street party, which had drawn a lot of public. The youngest individual to be injured at the scene was 11 years old, and the oldest victim was 62.
Speaking of the progress of the investigation, Johnson shared that the police had made 46 arrests on gun charges. Apart from the arrests, 60 guns were also seized.
However, Johnson admitted that the police were yet to make any arrests that were directly connected to the weekend shootings.
He expressed his strong belief that the criminals were known to someone. He added that the accountability had been shifted from those who knew the offenders to authorities like himself, the city council and the mayor.
Furthering his point in frustration, Johnson highlighted how no one had ever held the perpetrators of such heinous crimes accountable, and that he had never heard anyone say that the offenders need to stop harming people with their guns.
Johnson was also certain that the shootings were far from random. He believed that the violence was instigated by fights between gangs and that these gangs were not completely unknown.
The superintendent emphasized that the community needed to send a firm message that they would not tolerate such crime.
Asking for the community's support in nabbing the gunmen, Johnson asserted that the authorities and the community needed to realize that they are on the same side of the fight.
Please fill in your e-mail so we can share with you our top stories!