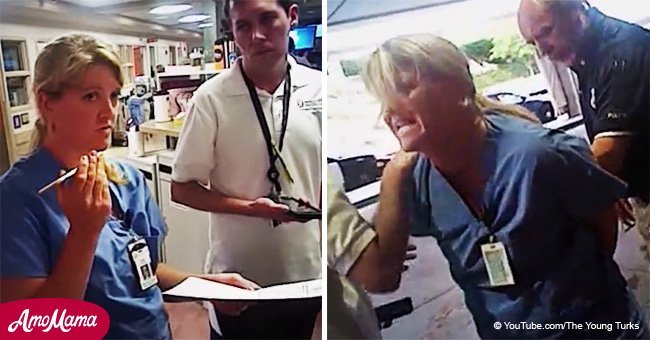 Nurse arrested for doing her job (video)
A police detective manhandled the nurse after she refused to draw blood from an unconscious patient. She knew it was against the law and refused to do it, but the police officer was persistent, as seen in the video.
After she was wrongfully arrested at the hospital she was working in, she eventually settled with Salt Lake City and the university that owns the hospital for $500,000.
As seen on the police body camera footage, the nurse, Alex Wubbels, was calmly speaking with the detective and showed him the hospital's policy that stated she wasn't allowed to draw blood without a warrant or the patient's consent, except if the patient was under arrest.
She explained to the detective named Jeff Payne, "This is something you guys agreed to with this hospital."
Follow us on Twitter at AmoMama USA for more details and updates.
Moments later, the video of the July 2017 incident showed that the detective forcefully dragged Wubbels out of the hospital and restricted her with handcuffs.
She was screaming that she had done nothing wrong the entire time.
By November 2017, a settlement deal was announced, and according to the Associated Press, the agreement covers all potential defendants from lawsuits like individual police officials and the security guards from the hospital.
The cost of the settlement was equally covered by Salt Lake City and the University of Utah.
When asked what she was going to do with the money, Wubbels said she was going to use a part of it to help the public get easier access to police body camera recordings, according to the Salt Lake Tribune. Wubbels clarified only the people involved in the incident themselves could gain access.
Also, her lawyer's firm agreed to provide legal services, free of charge, for the people wishing access to the videos.
In addition, Wubbels mentioned plans of donating to the Utah Nurses Association and her plans of starting a #EndNurseAbuse campaign.
As for Detective Payne, he was fired and his supervisor, Lt. James Tracey, was demoted to the rank of officer.
After the police body camera footage showing the incident was released by Wubbels and her lawyer, a lot of people discussed the way police officers improperly use their power.
Speaking about it, Wubbels exclaimed, "The police have to police themselves."
Please fill in your e-mail so we can share with you our top stories!