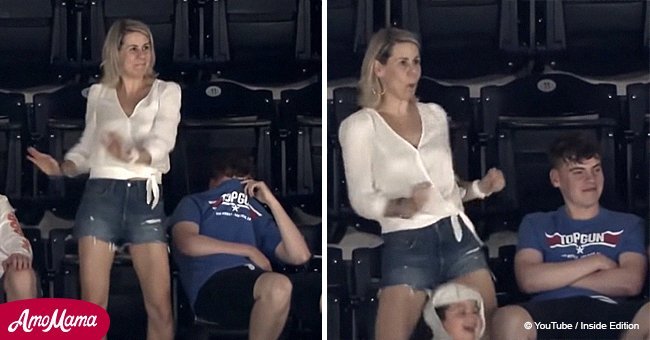 Teen looks absolutely mortified by mom's awesome jumbotron dance
A mother's impressive dance moves at a baseball game turned out to be the cause of her son's embarrassment. He tries to hide his face even as his father joins in.
Inside Edition uploaded a video of a mother dancing during a San Diego Padres' game in San Diego's Petco Park on August 2, 2018.
The teenager seemed to be uncomfortable when his mother got up and started moving to the music playing in the stadium.
Read more on our Twitter account @amomama_usa.
The mother's hilarious attempt to embarrass her son was captured on the Jumbotron for the whole stadium to see.
At one point in the game, Flo Rida's smash hit song "Low" began playing over the loudspeaker. The mother must have found it too good an opportunity to miss, so she got up from her chair and began to sway to the song.
The mother's enthusiastic dance moves caught the attention of the Jumbotron, but her son sitting next to her did not look amused by what she was doing. He even tried to hide his face with his t-shirt.
The teenager, wearing a "Top Gun," t-shirt seemed utterly mortified by the situation that he found himself in and it looked like that he desperately wished for the dancing episode to end.
Unfortunately for him, his mother was not in the mood to stop anytime soon.
At one point during the video, she even urges her son to join in the dance. The son only gives an embarrassed smile and continues looking straight ahead.
The boy's father sitting on his other side decides to tease his son a little more, and he too joins in on the fun.
Even though the father did not stand and dance like the mother, he was successful in adding to his son's embarrassment.
He seems to be hoping the whole episode would end quickly. However, his parents prove him wrong. He could not stop their antics and gave up in the end.
He looked mortified as the dancing continued. The video clip made its way into social media and caught everyone's attention. Many users sympathized with the teen.
A Twitter user, @KevinGPrice, said that the moment was his favorite part from the game despite the Giants' thrilling victory.
Another user, JJ Hayes, simply asked a question, "Parents… am I right?" Another user had a word of praise for the mother. Corrina Pysa said that all mothers must aspire to be the one dancing to embarrass her son.
Please fill in your e-mail so we can share with you our top stories!