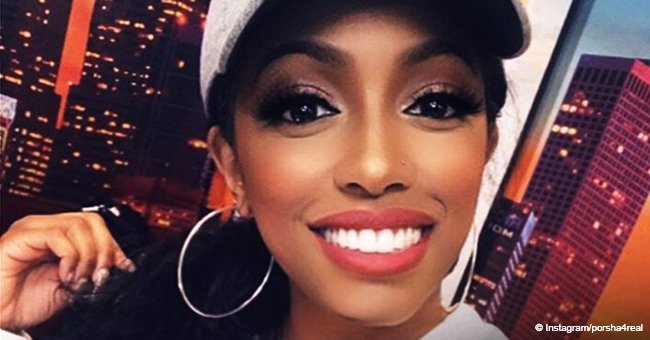 Porsha Williams steals the show twinning with her sister, Lauren Williams, in recent photos

The "Real Housewives of Atlanta" star looked stunning in recent pictures with her younger sister, who could easily pass as her twin. Like any pair of siblings, the girls have had their dramas in the past, but is all love between them now.
Porsha Williams knows exactly what her fans want to see on her social media account, and she's always willing to please them. A considerable part of her fans love to look at Porsha with her half-sister, Lauren Williams, so the star recently delivered by sharing several photos with the woman.
They could easily pass as twins, but Lauren is six years younger than Porsha, something that both women have stated got in the way of their relationship on Lauren's teenage years
However, now that they're all both grown up women, and Lauren even has a daughter, they are the best of friends.
Aside from being her sister, Lauren also works as an executive assistant for Porsha and is the co-owner of Naked Virgin Hair, Porsha's weaves, and extensions hairline.
Porsha recently took to her Instagram to share a series of pics with Lauren to celebrate "Siblings Day," and fans on her comment section went ballistic mentioning how incredible is their resemblance, even suggesting that there's no way they're just half-sisters.
In the first pic of her Instagram slideshow, Porsha is rocking a black jumpsuit with a plunging neckline that put her cleave on display, an embroidered jacket on top and a black clutch. Lauren, on the other hand, chose a more conservative outfit as she rocked a sleeveless peach colored dress that hugged her curves.
The next pics depict the sisters walking in mini dresses, standing in front of a mirror showing off their height difference, hugging each other aboard some cars, and there's even an adorable pic from their childhood that shows little Porsha holding baby Lauren on her arms.
"One time for my Rider @lodwill #nationalsisterday," wrote Porsha on her caption. Excited fans took over the comment section to share their thoughts on the pics.
One commenter wrote:
"Yall look so much alike that it ain't even funny. The bond of a sister should never be broken, never,"
and another praised the girls' dad genes saying:
"Same smile and wonderful genes, can't believe Y'all are only half-sisters but could pass as twins."
Speaking about the bond she had with Lauren to the Daily Dish last year, Porsha admitted that while it was hard working and being together most of the time, they eventually realized that space was necessary for their relationship, both personal and professional, to work out. She added:
"She's my everything. I couldn't have been blessed with a better little big sister because that's who she is to me. In business, she gets things done. And you know, working with your family member, you're definitely going to bump heads here and there."
And continued:
"But that's sisters, and it's also business that happens. But she and I are best friends, but we're super close, we're there for each other. So we have a really good relationship."
Please fill in your e-mail so we can share with you our top stories!