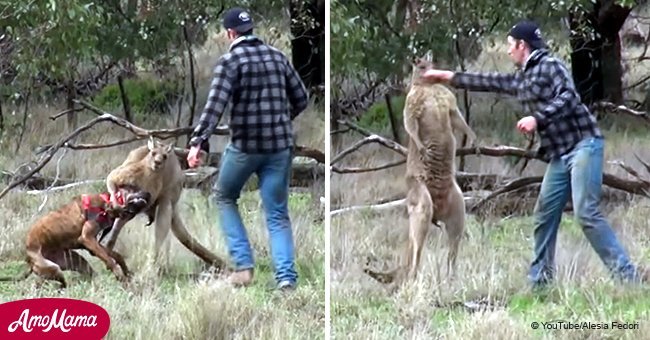 Owner punches kangaroo after it caught his dog in a choke hold (video)
A footage of a dog owner punching a male kangaroo to save his dog in Australia has become viral.
Greig Tonkins was reportedly pig hunting with his friends in rural New South Wales. As they wandered into the wile, they ran into a male kangaroo that soon got Tonkins' dog, Max, forced into a headlock.
Following his instincts to save his pet, Tonkins rushed towards the kangaroo.
As soon as the man went near the two animals, the kangaroo looked startled and let go of the dog.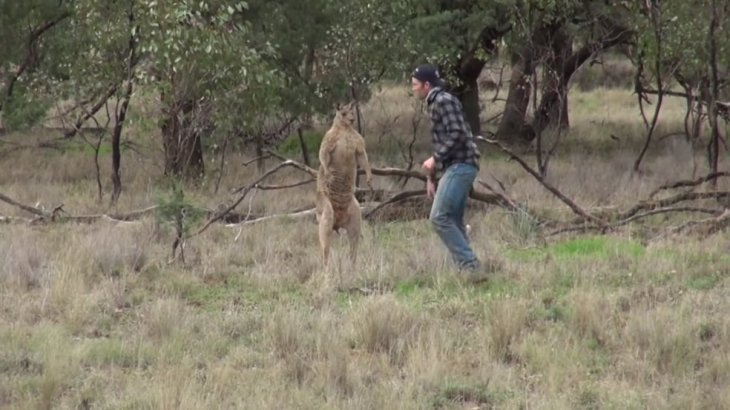 Source: YouTube
Follow us on Twitter at AmoMama USA for more stories like this.
Tonkins reportedly wanted to shoo away the kangaroo and deliberately punched the animal in the face.
The kangaroo looked shocked after Tonkins delivered the punch. The male kangaroo's reaction was the reason the video became viral.
A National Geographic explorer focusing his study on kangaroos, Marco Festa-Bianchet, suggested that Tonkins was lucky that he wasn't killed by the marsupial.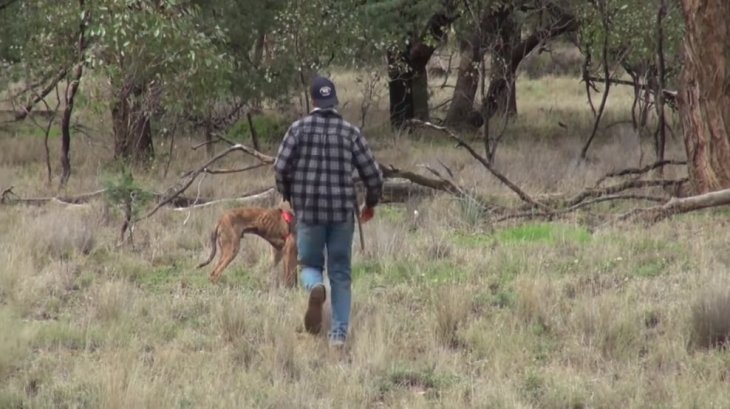 Source: YouTube
He explained that even though kangaroos are believed to be great punchers, they prefer to use their tails and legs.
Festa-Bianchet said they use their strong tails for balance and kick with their legs.
He said, "If the kangaroo had done that to the guy it could have disemboweled him."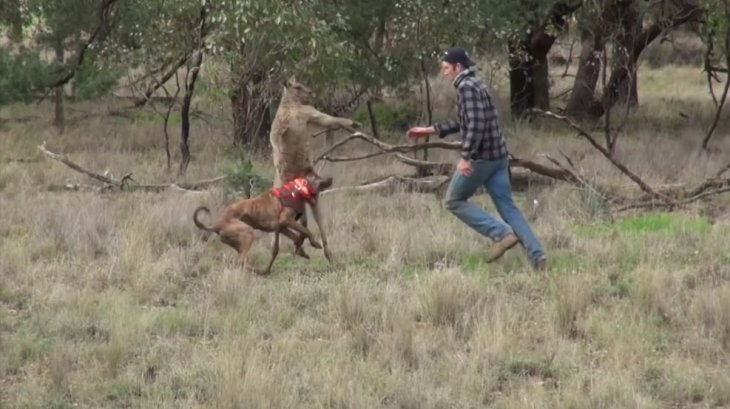 Source: YouTube
Speaking about the video, the expert said, "I'm sure the punch hurt. You can tell the kangaroo is like, 'Whoa what was that?' That's not what another kangaroo would do, and a human does not give the right signals. It kind of looks funny but it really was a dangerous situation."
After Tonkins delivered the punch, his dog retreated, and the kangaroo wandered off towards the bush.
Tonkins claimed the kangaroo did not have any visible injury.
As revealed by reports, Tonkins works as a zookeeper at the Taronga Western Plains Zoo.
The zoo suggested they were investigating the incident but clarified that Tonkins was not going to lose his job.
Please fill in your e-mail so we can share with you our top stories!