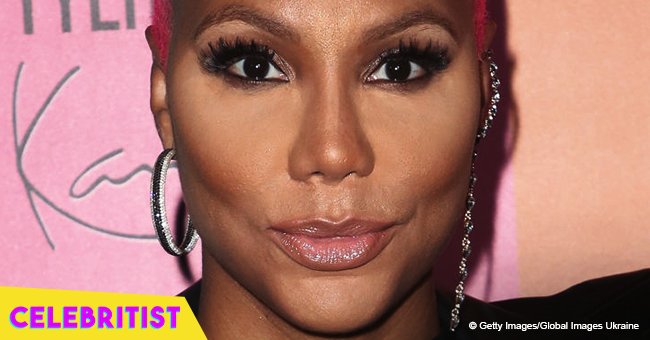 Tamar Braxton stays classy with her bald head & strapless gown in recent photoshoot
Tamar Braxton slays in a new photoshoot where she flaunts her bald head wearing a glittery gown. The singer who was recently involved in an in-flight controversy drew attention to her stunning look created for a magazine cover mock-up.
Tamar Braxton was a sight to behold in a post shared by her stylist Billingsley who created a mock-up of what could be her cover for Icon Magazine. Dressed in a dark metallic strapless gown with an extensive slit, Tamar revealed a slender leg that also showcased her thigh-high boots. Her make-up highlighted her facial features that stood out even more with her bald head.
Though the 41-year-old's photos have yet to grace the cover of Icon, fans already appreciated them. Many praised the reality star who struggled with body dysmorphia in the past for her flawless appearance.
"Look at my Tay Tay slaying"
"You always make sure Tay's serving looks. Everything about this is on point."
Last week, the singer featured in a controversy involving an airline pilot who reprimanded her on board. A video uploaded by Tamar's sister, Towanda, showed the pilot of Delta Airlines speaking to her about the importance of adhering to his instructions.
"Here's how this works, my flight attendants work for me. They give orders that come from me, OK? And so if you get an instruction from a flight attendant, I need to know that you are willing and able to do what you are told to do. Are you willing and able to do what you're told to do by a flight attendant? Don't ask me any questions. Answer yes or no."
Tamar replied yes to the pilot who then walked away.
Later, the former 'The Real' co-host spoke up about the incident and claimed she was "targeted." She told TMZ she was judged based on her television persona.
"Because of what people perceived on television is why I was targeted in the first place, and that wasn't really fair because I did nothing but sit in my seat and put my seat belt on and try to get home to my son. I was targeted because of how someone felt I acted on television."
The songstress filed for a police report but clarified that she wasn't blaming the airline company.
"It's not even the company. Sometimes you just got to get rid of the bad people. It doesn't mean the company is bad."
In response to the incident, Delta issued the following statement to People,
"It's crucial for the safety of every flight for customers to be willing and able to follow crew instructions. When these customers exhibited some unusual behavior and refused to acknowledge our flight attendant's instructions, the captain addressed them directly to ensure the safety and security of the entire flight."
Meanwhile, Tamar is loving her new bald look, after ditching her long blonde wigs following her divorce from her husband Vince Herbert last year.
The singer said she's done with "feeling captive to a wig, weave, people, people's comments and opinions" in a post in March where she debuted her hairless look. During her concert this summer, she surprised fans when she snatched off her blonde wig and revealed her bare head before continuing with her performance.
Please fill in your e-mail so we can share with you our top stories!