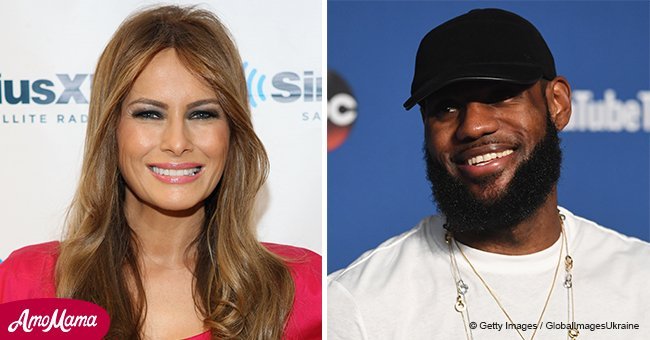 First Lady Melania Trump praises LeBron James after President Trump taunts him
Following President Trump's social media post questioning basketball star LeBron James' intelligence, First Lady Melania decided to lend the star her support.
According to a report from The Hill, a spokeswoman for Melania told in a statement that James is "working to do good things" with his new school for at-risk children. The school is located in Akron, Ohio, James' hometown.
The spokeswoman for the First Lady also stated that Melania is "open to visiting" the school before adding that she also encourages everyone to have an "open dialogue about issues facing children today."
Following James' interview with CNN's Don Lemon, The U.S. President wrote about James in his tweet: 'Lebron James was just interviewed by the dumbest man on television, Don Lemon. He made Lebron [sic] look smart, which isn't easy to do.'
Follow on us on Twitter to learn more.
Trump also appeared to be supporting Michael Jordan, who is often compared to James regarding which athlete is the all-time greatest NBA player.
Meanwhile, Jordan himself lent his complete support to James by stating that he is "doing an amazing job for his community."
In the interview with Lemon, James opened up about his 'I Promise' elementary school in Akron, which is seeking to serve over 200 at-risk children as their families, the source reported.
James himself had a few choice words for the President during the interview. He attacked Trump by stating that the President was trying to "divide" the U.S. by using sports.
CNN host Lemon also fired back at Trump for his tweet against James. The host wrote, 'Who's the real dummy? A man who puts kids in classrooms or one who puts kids in cages?'
Meanwhile, ABC News reported about a tweet from Trump in 2013, where he congratulated James on winning Athlete of the Year. He dubbed James in the tweet as a 'great guy.'
James is one of the biggest stars in NBA today. He played for Cleveland Cavaliers for years before opting out of his contract with them earlier this offseason. He has since joined Los Angeles Lakers.
Please fill in your e-mail so we can share with you our top stories!