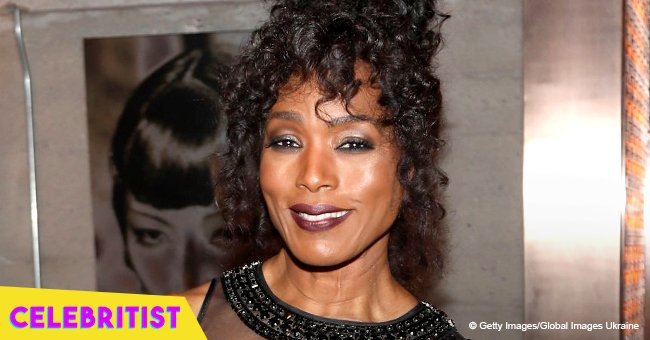 Angela Bassett stuns in floral suit in recent picture with her 'child'
Angela Bassett made Jessica Robin Moore's day when she said that the young actress could pass for her daughter. The lovely ladies posed for a photo together, looking gorgeous in their respective striped and floral outfits.
While Angela has two children of her own, she told Jess Hilarious that she could pass as her daughter. While it's unclear where the two actresses were at when they met, they definitely looked comfortable with one another during their encounter.
Dressed in a striped wrap dress that highlighted her cleavage and her long legs, Jessica looked starstruck as she posed alongside Angela, who is known for her recent movie "Black Panther". The Marvel Cinematic Universe actress hugged Jessica as they both smiled, sporting a stunning navy blue and white floral tracksuit that made her look much younger than she actually is.
"She say "Now YOU look like you can be my child" I damn near died 5 times, couldn't even breathe. #AngelaBassett I love you then Mommy"
The 59-year-old recently slammed age-shamers on one of her interviews with Net-A-Porter, where she shared what it's like to be an aging actress.
With many people in the entertainment industry telling her that she looks good for her age, Angela feels that comments like that are "weird".
"I guess it's a high-class problem to have."
Bassett shares that reporters and people in the media often tell her that she looks "so good for someone who's 59-years-old", and she claims that the comment is somehow insulting in a way as if she's supposed to be "broken down" or decrepit. As for her youthfulness, the actress credits her exceptional diet for 85% of her beauty.
Aside from Marvel's "Black Panther", Angela also played a role in the latest "Mission: Impossible" film, which hit theaters in July. While she has had some notable roles in the past, one that she is most known for is her iconic portrayal of Tina Turner in the classic movie "What's Love Got To Do With It". The movie highlighted Tina's allegedly abusive relationship with her husband Ike Turner, who he could be seen striking repeatedly throughout the movie.
Please fill in your e-mail so we can share with you our top stories!