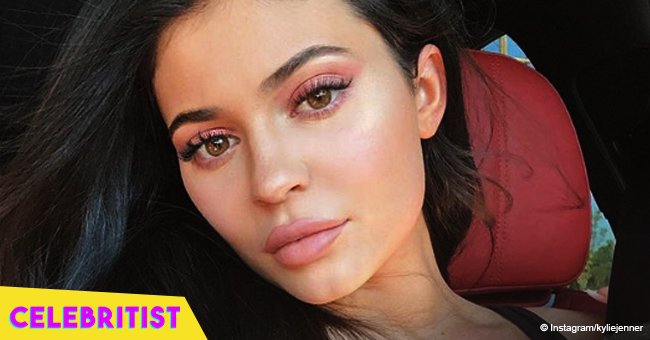 Kylie Jenner shares closeup photos of her 'most special gift' Stormi on 21st birthday
Kylie Jenner just turned 21 and as a treat to her fans, she broke her previous rule of keeping her daughter's face from social media by doing just the opposite. The youngest sister paid tribute to her little one she described as her "special gift" as she welcomed her birthday.
It was only in June when Kylie Jenner announced she was no longer featuring Stormi's face in any of her social media posts. But as she turned a year older, she couldn't resist sharing snaps of her adorable little girl.
"Bringing in my birthday tonight with my most special gift. What was life before you, Stormi. I love you my little angel," Kylie wrote to accompany a portrait of the two of them she posted on August 10, a day before her birthday.
In a separate image, she lovingly wrote, "my heart."
Kylie's birthday posts came as a surprise to her fans who were aware of her reservations in sharing her daughter's photos. Even Stormi's father, Travis Scott, shares her sentiments.
The makeup mogul's protectiveness of her child stems way back when she first found out she was pregnant. It can be recalled she kept her pregnancy a secret until the day her daughter was born. However, when motherhood kicked in after she gave birth, she couldn't wait to share Stormi to the world. She began posting photos to the delight of her fans. She also shared an 11-minute video of her journey while expecting revealing a life she kept secret for nine months.
But social media comments can go both ways. Along with praise for Stormi were nasty comments Kylie doesn't need in her life which is likely why she opted to keep Stormi away from it all. She noticeably deleted previous photos of her baby after she made the decision.
Her latest posts though will more likely generate positive vibes. In the snaps, Kylie, wearing a little black dress, lovingly holds her child like only a protective mother could. Little Stormi appeared to be familiar with the ways of a camera as she stared straight into it. Just take a look at the photos Kylie proudly flaunted.
Along with the mother-daughter portraits, Kylie also shared some throwback photos including those from her childhood and with her father Caitlyn Jenner. On Monday, she released a new collection from her Kylie Cosmetics line. This is the third year she's released a collection on her birthday.
"It is definitely the most personal collection that I have done so I hope you guys love it. My birthday collections are super special to me because the first collection I ever did was for my 19th birthday so this is going to be my third annual birthday collection."
Happy birthday Kylie!
Please fill in your e-mail so we can share with you our top stories!