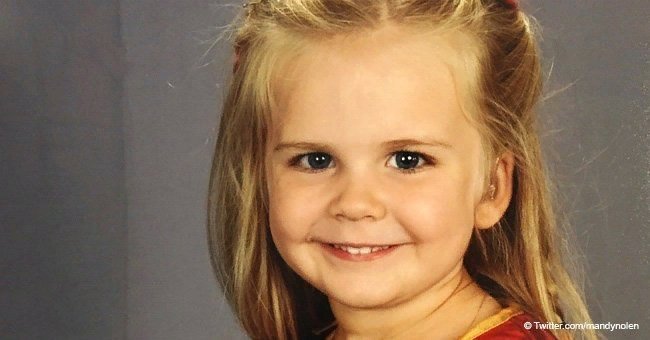 Dad lets daughter choose her own outfit for photo day
Some people feel that the yearbook photo is one of the most important pictures in their student life because that's the way people will remember them. Kaylieann Steinbach's parents believe this, and they chose three different outfits for their 3-year-old daughter to wear for picture day at her school.
According to So Share This, the thoughtful parents laid the outfits on her bed, but after analyzing them for a couple of seconds, the toddler said she wanted to wear her "pootergirl" outfit.
Austin Steinbach, the child's father, pointed out that Kaylieann is 75% deaf and has been struggling to pronounce "s" sounds properly. He added that it was his daughter's way of saying "Supergirl"
As soon as Austin heard that, he made her wish come true.
After Steinbach shared the photo on his Facebook page, Kaylieann became an internet sensation. To this date, the pic has received 1.9K likes and almost 200 comments from people mostly calling the girl adorable and praising her parents.
The entire family has been working with Kaylieann to teach her American Sign Language (ASL), which has improved her life dramatically. He confessed that they have learned more aspects of her personality and that knowing exactly who she is has been a life-changing experience.
Proud dad Austin has labeled his daughter as strong, independent, unique, tenacious, brave, "and any other word to describe joy, intelligence, and grace."
Austin later declared that his daughter's decision to put on a Supergirl outfit wasn't a surprise as she loves to wear superhero costumes. He added that he has to hide them to send them to the laundry shop.
They got the costume for San Francisco Comic-Con. She was so excited about it that she wore it for two weeks straight up until the actual event. Her parents had a hard time getting her out of it.
Kaylieann's school has a "let-kids-be-kids" policy, and they supported her wardrobe choice for picture day.
Austin pointed out that the school staff and the rest of the students expected it because they know her a lot already.
He also admitted that it was always fun to hear other students talk about her being Supergirl or any other hero she wore to school that day.
Please fill in your e-mail so we can share with you our top stories!