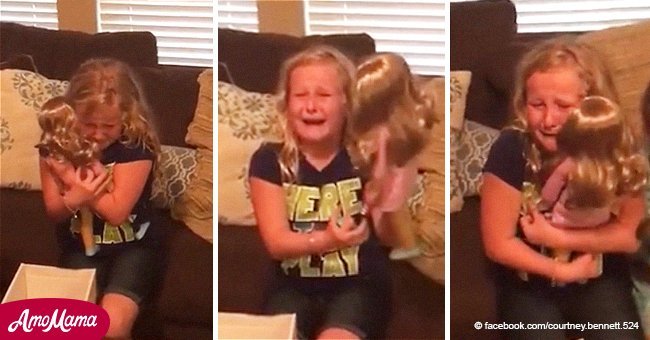 Girl with prosthetic leg bursts into tears when she gets a doll that looks just like her
Emma Bennett, a young girl who has a prosthetic leg, received a doll that looked just like her and her heart-warming reaction went viral.
The girl couldn't believe her eyes when she opened the box placed in front of her and saw the doll with a prosthetic leg that resembled hers.
The special moment was captured on video and was immediately uploaded to Facebook and now, much like thousands of people around the world, you will be able to enjoy Emma's reaction.
According to Courtney Bennett, Emma's mother, it was a magical moment and that there were no words for how emotional it was seeing her little girl receive the doll.
Please follow us on our Twitter account @amomama_usa to learn more.
In the video, Emma can be seen opening the big box with the blond doll inside. Initially, she has some trouble opening the letter that came with it but her mother helped her out.
Emma was flabbergasted when she realized that it was an American Doll, which she loves to collect, and that it had been specially modified to have a pink prosthetic leg.
While Courtney reads the letter, Emma is spotted checking the little leg before re-attaching it to the doll, and sitting very still paying attention to her mother's words.
Soon, Emma grabbed the doll in a tight hug and started crying out of joy, thanking A Step Ahead Prosthetics, the company that modified the doll for her.
"I can say all day long that I try and put myself in Emma's position, but one will never truly know what it must feel like to want a doll just like you. I knew she would love it, but never could have imagined how much she "truly needed it"
Courtney Bennett, Facebook, July 2, 2006
Emma, who lives in Cypress, Texas, was born with a rare birth defect and has been using a prosthetic limb for most of her life. Still, she didn't let it bring her down.
Aside from her prosthetic leg, she is a normal girl and quite an active one as well. She loves to play volleyball and soccer, swimming and she is also a cheerleader. There is no slowing her down!
Please fill in your e-mail so we can share with you our top stories!