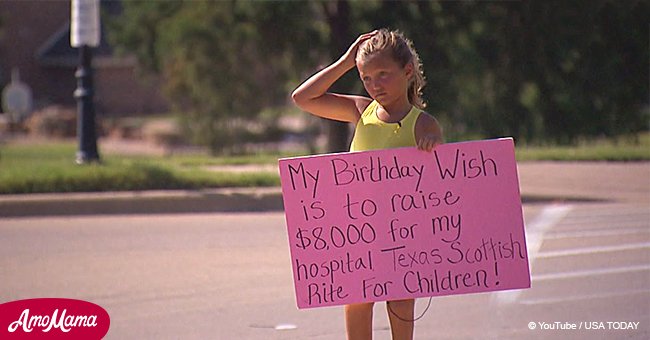 Grateful girl raises money for hospital that helped her walk
10-year-old Addie Bryan, born with a rare bone disorder, raised an amount that was much more than what she had initially set out to achieve for the hospital that had treated her over the years.
USA Today shared a video on Youtube on August 13, 2015, about the little girl from Texas who raised money for Scottish Rite Hospital.
Bryan was born with a bone disorder due to which she could not bend her knees, and her legs were turned backward.
Her parents enlisted the help of Scottish Rite hospital, which treats children free of cost. She decided to something for the hospital in return.
Bryan had spent a lot of her childhood at the Texas Scottish Rite Hospital. She had undergone multiple surgeries and went through intense physical therapy.
After receiving rigorous treatment from the hospital, the little girl recovered. Though the doctors feared she would never walk in her life, she proved them wrong. Not only can she walk, but even run.
In the summer of 2015, when she was seven years old, Bryan decided that would help the hospital by raising money.
She set a target of $8,000 for the hospital, and for to achieve her goal, Bryan dashed down to the corner of her street every day. She would hold a sign that read, "For my birthday, I want to raise $8000 for Scottish Rite Hospital."
Her story quickly went viral, and it was widely reported by different media platforms, including People.com.
Bryan's dream of collecting the money did not seem daunting after a while as her story appeared all over the internet.
Soon her campaign to donate money to her hospital fetched her $19,500. The amount Bryan was able to collect was far more than she or anyone around her expected.
But Bryan had no idea that she was in for an even bigger surprise when Vice President of Scottish Rite Hospital, Stephanie Brigger, received a letter in the mail which had a check with it.
The letter was from an anonymous donor who had donated $50,000. The unknown sender was impressed with Bryan's appreciation towards her hospital.
"I am almost speechless because I am the one who opened it. The anonymous donor wrote about seeing Addie and the pictures of her and then seeing her running."
Stephanie Brigger, USA Today, April 13, 2015.
Bryan's efforts were able to fetch $69,500, and for a hospital that heavily relies on such charitable donations to help children like Bryan, it was a significant amount and would surely go a long way in assisting them to continue such a noble cause.
Although her humanitarian efforts received a lot of attention, Bryan insisted that this was never about her.
She said that her only goal was to help the place that healed her and became her second home and she did this for the other children that are getting treated in the hospital.
"I think all the kids are going to be happy, and they can get out of the hospital faster," Addie said to USA Today.
Please fill in your e-mail so we can share with you our top stories!