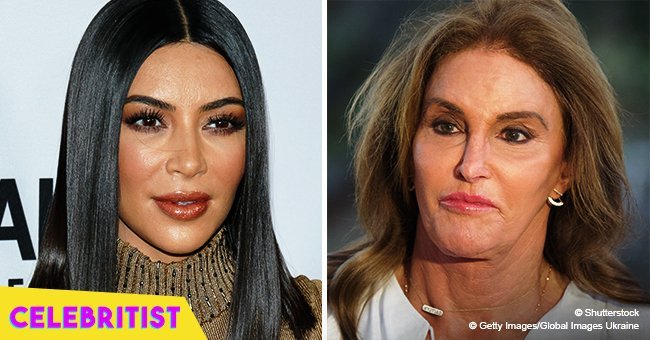 Kim Kardashian reveals current relationship status with Caitlyn Jenner amid family drama
It's been more than a year since the world first found out about the feud going on between the Kardashians and Caitlyn Jenner. Now, Kim Kardashian shares an update about the state of her current relationship with her former stepfather.
The infamous feud between Kris Jenner, her children, and Caitlyn Jenner started after she went on "Vanity Fair" and spoke about Kris in a negative way. However, things were on full force when an episode aired on their reality TV show "Keeping Up With the Kardashians" about Caitlyn's tell-all book called "The Secrets of My Life".
Cosmopolitan gave a quick rundown on what the book said, which included Caitlyn revealing that it was actually her idea to start a reality TV show, and Kris eventually having full control over the money they made from the show. The estranged Jenner also said that among all the sisters, Kendall is the most down-to-earth of all.
After the Kardashians read the memoir, they were not happy at all. In that episode, Kris cries to her daughters about how everything was made up, and the only nice thing her ex-husband said about her was that she's great at parties.
"I've never been so angry and disappointed in somebody in my whole life."
A month later, Kim felt the need to defend her mom on the "Ellen DeGeneres Show", where she said Caitlyn was not being honest about everything.
"It's taken her a really long time to be honest with herself so I don't expect her to be honest with my Mum now. It's just so hurtful. I wish her all the success in the world but not at our expense."
Caitlyn and the Kardashians would then alternate throwing shade at one another until eventually, things started to cool down. Now that she is more focused on the welfare of her own family and the empire she is creating with her husband Kanye West, Kim says that she's "cool" with Caitlyn.
In an interview with BigBoyTV, the mother-of-three shares that everything is "cool" now, and it's not as bad as it was before.
"It's cool. It's not like it was, but as my sisters' dad, and she's family, it is what it is. I'm chill now."
Kardashian-West seems to have put the past behind her, making sure to respect the fact that Caitlyn is her sisters' dad, and that they spent so many years together as a family. While Kim seems to have taken the high road, it might take much longer for her mom and the rest of her sisters to forgive their former stepdad.
Check out the Kim speaking about Caitlyn beginning from 35:50.
Please fill in your e-mail so we can share with you our top stories!