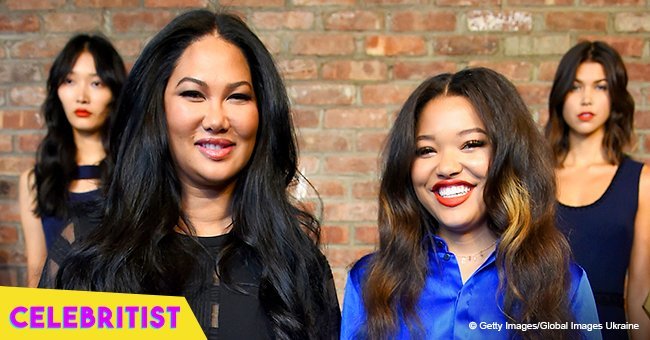 Kimora Lee Simmons claps back at fan who came at daughter Ming

Kimora Lee Simmons' daughter, Ming Lee, shared a picture of her new hair to Instagram and one user came up in the comments to pose an offensive question. Drama ensued when Kimora, like a true Mama Bear, rose to her daughter's defense.
Ming showed off her straight hair that contained pink and blue highlights. She wore it parted to the side and puckered up her lips in the snap she shared to her over 700 followers. Her caption read:
"Life's too short to have boring hair

Hair: @vbshaircollection

Install: @iam_whatshername_"
For the most part, there were raving reviews:
"Beautiful colors on you but you so Gorgeous anything would look good on you. God bless beautiful"- @prettybigp

"I Love ur hair colors there Beautiful on u"- @ms_celesta55

"So pretty like your Moma!!! And love the hair"- @olivee777
Kimora and Ming's father, Russell Simmons, also showed up in the comments to cheer their baby girl:
"You sure ain't boring"- @unclerush

"My baby!"- @kimoraleesimmons
But things soon went south, and the comment section became one vast battlefield. The controversy was based mainly on Ming's lips, which some believed to be fake:
"God knows they aint real"- @marviingaye

"Hell wrong with your lips, not cute"- @prettybigdeal

"Such big lips, yuck!"- @creyzee_bout_zeyveengs
The back-and-forth was mostly between two groups: those who believed the budding model had surgically enhanced her lips and those who argued they were real. It eventually spiraled to a race war when some users pointed out that Ming's lips were naturally full because she had a black father and a partly African-American mother. This comment pretty much summed up the situation:
"@photographinganna she's black her lips are real. She doesn't need lip fillers like white girls eat that!"- @mintjewerly
Internet users hurled a barrage of hurtful words at the teenager and Kimora soon had enough. When another user asked Ming if she had gotten lip fillers, the 43-year old mother-of-four and former supermodel snapped:
"@razorlightfresh ming is 18. Those are au naturel! Since she was a baby! Mama don't play that!"
Please fill in your e-mail so we can share with you our top stories!