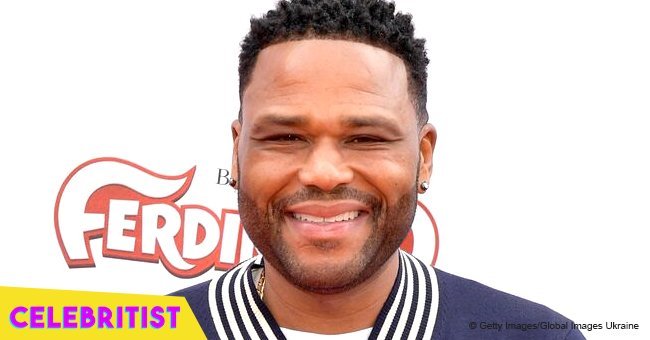 Anthony Anderson's son stops hearts in throwback photo with his father, Barack and Michelle Obama

Anthony Anderson's lookalike son, Nathan took to Instagram to share a photo in celebration of President Obama's birthday. The group shot captures the Obamas and the Andersons, including his sister Kyra, who lives a very private life.
It is no surprise that Nathan got to visit the White House and strike a pose with America's first black president. His father, Anthony Anderson is a close friend and supporter of Obama and on many occasions, has shared how he and the president once enjoyed a round of golf.
In Nathan's picture, the Obamas and the Andersons are huddled together and all smiles. The "Blackish" star is on the far left, followed by his wife, Alvina, President Obama, Kyra, Michelle Obama, and Nathan. The message attached to the post shows just how much the 18-year old Nathan admires Obama, who he refers to as a Greatest Of All Time (GOAT):
"I know this is a repost. But it's Obama's birthday so all bets are off. Happy birthday to an absolute GOAT"
Just like his son, 47-year old Anthony gave a birthday shoutout to his "golf buddy":
"Happy birthday @barackobama! My friend, play uncle, golf buddy, fellow LEO and the most dignified president this country has had in decades! #justakidfromcompton"
Anthony and his son, Nathan have more in common than just being Obama fans. Both men are players in the Hollywood scene; the former is a well-known celebrity while the latter is just starting out.
Anthony sat down with Rachael Ray earlier this year and explained how he wanted his son to play the role of "Junior" in his hit series, "Blackish." The only thing that stood in the way was Nathan being too cool to portray the nerdy character:
"I wanted him to be Andre Jr. on 'Black-ish,' but my son's cool factor… You know, he just has a little too much swag, and I don't know where he gets it from. I sometimes question if he's mine or not. His swag factor is just off the charts! And we needed him not to be goofy, but just be a nerdy kid, and he couldn't shake that. And so I couldn't cast him!"
Now, Nathan is set to star alongside Rev Run in "All About The Washingtons," a new Netflix show.
Please fill in your e-mail so we can share with you our top stories!