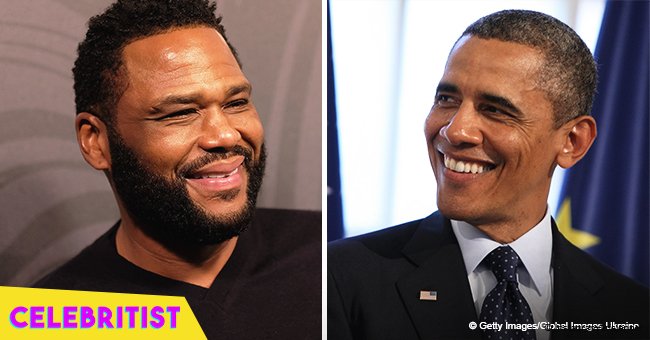 Anthony Anderson shares pic with 'golf buddy' Barack Obama after losing $300 in game with president
The "Black-Ish" star took to Instagram to sent a heartfelt birthday message to the former president, a year after he had the opportunity to lose against him on a golf game.
Anthony Anderson has always been vocal about his support for Barack Obama, both when he was president of the United States, and after he went out of the White House. The star, like many other celebrities, took to social media to send his best wishes to Obama on August 4.
The 47-years-old actor posted an old selfie next to Obama from the time they reunited to have fun at a golf course. In the pic, Anderson is looking straight at the camera with a serious expression while Obama is rocking dark sunglasses and a white cap while attempting a smile at the lens. Both men were rocking white polo t-shirts.
He wrote in his caption:
"Happy birthday @barackobama! My friend, play uncle, golf buddy, fellow LEO and the most dignified president this country has had in decades! #justakidfromcompton"
A year ago, Anderson visited Jimmy Fallon on "The Tonight Show," and among other things, the actor told the story of the time he had to hop on a plane from Mexico to the U.S to play golf with the former president.
Anthony was spending some time with his family in Cabo, Mexico when he got a call from his friend and NBA star Chris Paul asking him if he was available for a round of golf with non-other than Barack Obama. Although tempted for the invitation, Anderson politely declined to put his family and their vacation first.
However, after he hung up and told his wife and kids about it, they convinced him to don't throw away his shot, go back home, and have a unique experience. Anderson called Paul back and told him not to give away his spot because he would return.
In the end, the actor had to charter a place because he couldn't make it to the last commercial flight of the day.
"Long story short, it was the most expensive round of golf I've ever had to play in my life," he confessed.
The foursome also included swim medalist Michael Phelps, and despite all the men's experience on the golf course, Obama beat them easily and even took their money. He's a bit mouthy, according to Anthony.
"It was cool. President Obama talked trash all day. Five and a half hours, nothing but trash talk… and took all of our money. He took $700 from Phelps, he took $600 from Chris Paul, and he took $300 from me."
Anderson also praised Obama's abilities, explaining that while he doesn't hit the ball off the tee, his shots were "straight as an arrow" and he used one ball the entire game.
While he tried not to take offense about the former president taking his money, the "Black-ish" star joked about telling Obama "Man, is this even right? Can you take money from civilians?". Obama's answer allegedly was:
"Anthony, I'm a civilian now, so yes, I can take it."
Please fill in your e-mail so we can share with you our top stories!