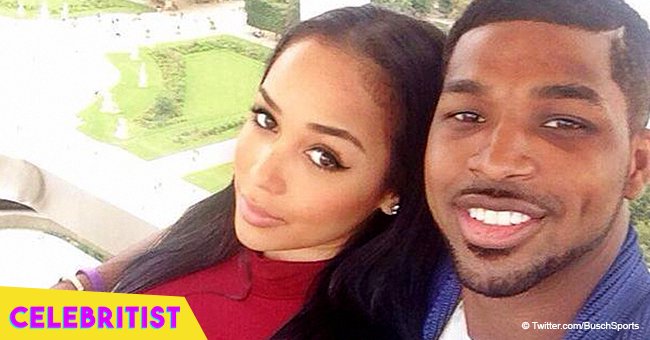 Tristan Thompson's 1st baby mama stuns in sequined colorful bikini & beige ruffle pants in new pic
Jordan Craig took to her Instagram account to share a stunning pic rocking a "mermaid" outfit, a few weeks after she posted photos with her little equestrian son.
The model and lifestyle blogger has kept a low profile despite the constant rumors surrounding her relationship with Tristan Thompson and Khloé Kardashian. Instead of answering to the fans' burning questions about her life, Jordan, or Jordy as she calls herself, is focused on making her business grow.
One of her recent outfits shared to Instagram made Jordy look like a walking fantasy. She combined a sequined bra made with gold chains and a draped design, with high waisted chiffon ruffled beige pants.
To complete the look, she rocked big silver hoop earrings and tied her long strands in a half high ponytail.
"Always Be Yourself..Unless You Can Be A Mermaid..Then Be A Mermaid."
Fans immediately took to her comment section to share their thoughts on the stunning outfit. One follower praised Jordy's sense of style saying "You look good in everything you wear, and your fashion sense is always on point."
Another commenter added, "Jordy in a class of her own, that outfit proves it, I mean: who's rocking that?" and a third one concluded "Be both! You look gorgeous."
Craig, who was in a relationship with the NBA star for a good part of 2016, not only manages a webpage where people can shop her exact outfits, she also runs a lifestyle blog where she shares little bits of advice that go from making desserts to decorating a nursery.
In her last post, titled "Mommy & Me: As I Watch You Grow…" Jordy took the time to express her love for little Prince Oliver, recalling the time they went horse-riding for the first time.
"There aren't many things that excite me these days, the way that watching you grow does," she wrote. And continued:
"Watching you grow and do things for the first time is such an addicting, fulfilling feeling! Whether it's traveling the world with mommy or equestrian riding for the first time at just 1 year old...your expressions and excitement are always priceless."
To accompany the post, Craig posted some photos from their equestrian experience on Instagram, posing with her adorable son and a majestic looking horse.
Even though she has been careful with the pics she shares of Prince on social media, it seems like Jordan is now ready to share a bit more of the boy with her loyal fans after her baby daddy did the same two months ago.
The Cleveland Cavaliers stars broke the internet after he posted a photo of his two kids, True and Prince, having a lovely brother-sister moment.
While is not clear if Jordan has a friendly relationship with Tristan's second baby mama, Khloé Kardashian, is safe to assume she's okay with her son hanging out with his baby sister.
Please fill in your e-mail so we can share with you our top stories!