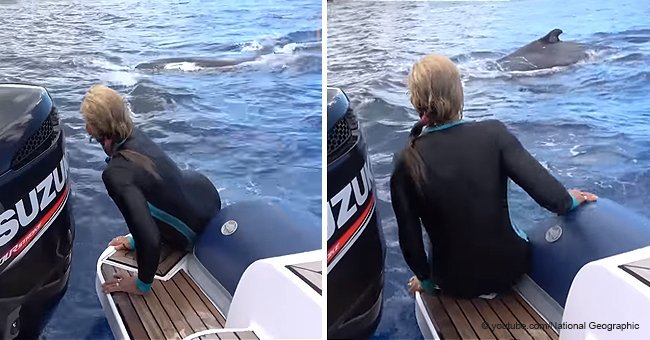 Giant whale saves unsuspecting snorkeler from shark attack

These majestic giants have been known on occasion to save other species from danger, but this woman never expected to be one of them.
Whale biologist Nan Hauser had been studying the largest animals on earth for almost three decades when she had an incredible encounter with a humpback whale while snorkeling off the coast of Muri Beach, Rarotonga, in the Cook Islands.
She had been swimming off the back of her boat near some humpback whales when they started to get ever closer to her. The whales allowed her to touch them and swam around her.
Then at one point one of the whales tucked her under his enormous fins. She panicked for a moment, thinking it was trying to kill her, and worried that even if he didn't he could seriously injure her.
Read more on our Twitter account, @amomama_usa.
For 10 minutes the whale kept her close to him, rolling her over his belly and back, lifting her out of the water, and tucking her under his fins before she was given space to move freely again. She said:
"I wasn't sure what the whale was up to when he approached me and it didn't stop pushing me around for over 10 minutes. It seemed like hours. I was a bit bruised up."
Later, when she climbed back onto her boat, she noticed a 15-foot tiger shark nearby and postulated the whale had been trying to save her.
Her peers were skeptical of her explanation, and she wasn't surprised. Hauser had set up a camera and recorded the encounter, giving viewers firsthand footage of her experience.
The 63-year-old also explained that the other whale had slapped the shark away with its tail while she was tucked safely away under the fin.
"I didn't want to panic, because I knew that he would pick up on my fear. I stayed calm to a point but was sure that it was most likely going to be a deadly encounter."
Please fill in your e-mail so we can share with you our top stories!