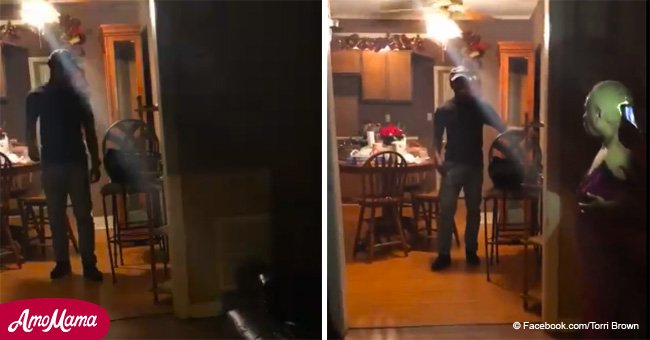 Grandmother collapses when surprised by her soldier grandson who's been away for two years
Her grandson had been away serving in the marines for almost two years, and she hadn't seen him once in that time. Her reaction to his homecoming is priceless.
Torri Tyrell Brown, a 20-year-old from Jackson, Mississippi, has been stationed just south of Japan, at Camp Kinser on Okinawa Island for 19 months since December 2016, without a chance to visit his family.
In late July 2018, he decided to return home to surprise his family, wanting especially to make sure that his grandmother didn't know he was coming back.
He made sure to set the groundwork for the surprise, taking to social media shortly before his return to say that he would be missing the third family reunion in a row since being deployed.
Family and friends took to the post to share their disappointment that they wouldn't be seeing him yet again.
"I decided to surprise my grandma right before our family reunion so I told her I wasn't going to make it back home for the family reunion once again. After that phone call, I went to the airport to fly out to the States. I called my cousin (one of the two people I told) to come pick me up. He picked me up and I first surprised my cousins and auntie," he said.
After arriving at the house, he had his cousins set up to capture him surprising his grandmother on video.
In the footage, Brown can be seen waiting inside the kitchen for his grandmother to come out and see him. By that time, most of the family seemed to know, as they walked past the kitchen without paying him much mind.
But when his grandmother reached the kitchen and saw him, she flat out fainted in shock!
Brown hovered over the scene, shocked beyond words at her reaction.
"The rest of my family knew she would faint, because she's always extra when it comes to me. I was mostly shocked but it was hysterical at the same time. She's a caring and kind woman who raised me every since I was a young infant. She has been there for me my entire life and I consider her my best friend," Brown said.
Please fill in your e-mail so we can share with you our top stories!