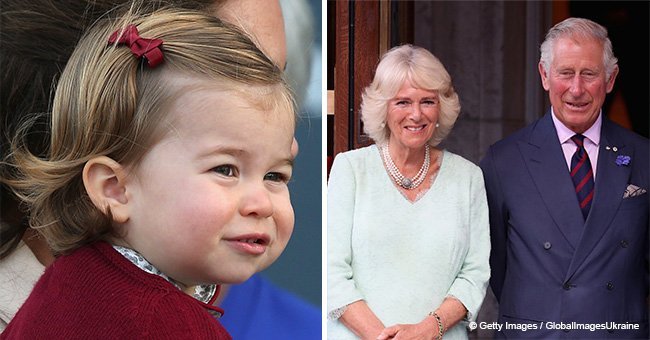 Adorable moment Princess Charlotte waves goodbye to Prince Charles and Camilla
Footage emerged of three-year-old Princess Charlotte seeing off Prince Charles and Camilla after their visit to the family's Kensington Palace home.
According to News.com, the video showed Charlotte waving Charles and Camilla as they prepared to board their helicopter earlier on June 22.
Carried in the arms of her nanny, Maria Borrallo, Charlotte gives a warm goodbye wave to her grandparents. Camilla also seems to pause for a few moments to give Charlotte a goodbye wave.
The correspondent for Israel Channel 2, Elad Simchayoff, also posted a Tweet of the video and captioned it: 'Princess Charlotte waving goodbye to grandparents Prince Charles and Camilla after a visit to Kensington Palace'
The report further suggested that despite being only 3 years of age, Princess Charlotte's has become quite a master when it comes to giving away a royal wave.
Earlier, she also made headlines during her brother, Prince Louis' birth in April when she gave an elegant wave to hundreds of people waiting outside St. Mary's Hospital.
She was also the center of attention when she became one of the bridesmaids at her uncle, Prince Harry's wedding to Meghan Markle. Charlotte's confident wave to huge wedding attendees became famous all over the world.
The rare video of the little Princess' wave has been adored by the social media. Simchayoff's post has so far been retweeted hundreds of times and has been liked by more than 500 people.
In the comments thread to the post, a few Twitter users are also questioning if the grandparents noticed the little girl waving at them from that far a distance.
Alicia C wrote in the comment that it didn't look to her that either of them noticed the wave. But, Royal Circular replied, 'Yes they did. You can see them waving before they board.'
Please fill in your e-mail so we can share with you our top stories!