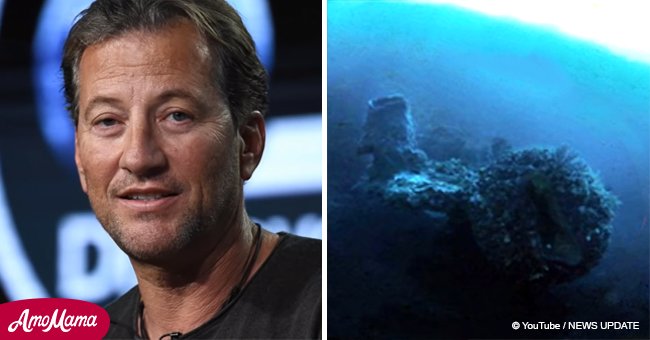 Daily Mail: Treasure hunter claims he found 'alien' spaceship under Bermuda Triangle

A group of explorers has discovered an unidentified object beneath the Bermuda Triangle that is believed to provide evidence of an extraterrestrial visit to the earth hundreds of years ago.
Darrell Miklos, a treasure hunter, is dedicated to finding shipwrecks in the Caribbean and according to the Daily Mail, he has discovered an object that he believes will surprise the world thanks to the help of his close friend and astronaut of NASA, Gordon Cooper
Miklos dived into an undisclosed location near the Bahamas to investigate what he thought might be an ancient wreck according to maps compiled during 1960 by Cooper to identify more than 100 magnetic oddities in the Caribbean.
"It was also something completely different from anything I've seen nature do," said Darrell, who will boast of his otherworldly find on his Discovery Channel show, Cooper's Treasure.
Veteran diver Darrell was looking for wrecks of English ships related to the captain of the sixteenth-century British sea, Sir Francis Drake, when he suddenly stumbled upon this great discovery. Read more on our Twitter account @amomama_usa.
During the first season of the show, Darrell and his team used Cooper's maps to track a centuries-old anchor that was thought to come from one of the three ships belonging to Christopher Columbus's fleet.
In the images taken by the team, it can be seen that the object has the appearance of a "warship" with a steep wall from which five cylindrical arms protrude like cannons.
Darrell and his diving buddies used a special breathing apparatus to reach the "spacecraft" 300 feet deep. Once at the site, the team noticed that the object found did not appear to have been manufactured by humans.
In fact, the unidentified object was covered by a layer of thick coral, which suggests that if it landed there coming from beyond our planet, it must have been hundreds or thousands of years ago.
It is worth noting that Cooper's maps have also brought Darrell to dozens of other significant shipwrecks throughout the Caribbean that worth millions.
Please fill in your e-mail so we can share with you our top stories!