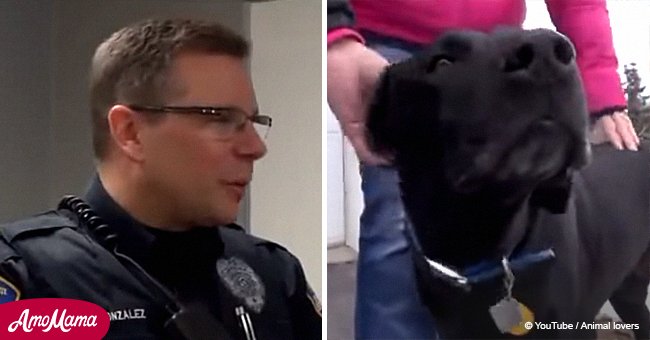 Dog leads policeman all the way to its house to help owner
A dog wandering alone in a neighborhood, managed to bring a patrolling police officer to the place where it's owner, who had a heart condition, was lying unconscious on a cold morning.
John Boy, A German Labrador, was found running around by Police officer Jeff Gonzalez who was driving around in a Germantown, Wisconsin, February 13, 2015, according to Fox 6 News.
Officer Gonzalez stopped his patrol car when he saw John Boy approach his vehicle and when the dog began to bark, Gonzalez rolled down his window and called to him. The dog got friendlier and started to wag his tail when the officer got out of his car.
"And then he ran a little," said Officer Gonzalez. He soon realized what the dog was trying to do, when John Boy guided him to down the street, to the home of his owner, later identified as Krystal, who was lying unconscious, collapsed on a chair in the front porch of her home.
Officer Gonzalez at first assumed that the woman was dead, because he found her very cold to the touch and her lips had turned blue, but on closer inspection, he was able to ascertain that she was indeed breathing and had a pulse.
"To be honest with you, I thought she was dead. And when I went up, she was very cold to the touch; her lips were blue. But I was able to determine she was breathing and had a pulse. I called for assistance, and my partner was close. So together we got her in the house."
Gonzalez immediately called for assistance and with the help of his partner moved the woman inside the house.
Krystal's daughter and sister immediately arrived at the house when they received a call from the authorities, and she was taken to a hospital for treatment. She had a heart condition.
Gonzalez later found out that Krystal had taken John Boy out on the front porch just moments before she lost consciousness and collapsed and she was lying on her lawn for almost two hours, while her loyal companion tried very hard to find someone for help, according to AWM.
According to Fox 6 News, John Boy ended up at Krystal's home after he was adopted and returned by three different families. Krystal's daughter said that it was meant to be.
The Telegraph had reported on April 24, 2010, that a dog named Buddy had helped save his owner and home after a fire broke out in Caswell Lakes, Alaska.
The dedicated dog caught the attention of an officer before leading him through the winding country road directly to the place of fire.
Please fill in your e-mail so we can share with you our top stories!