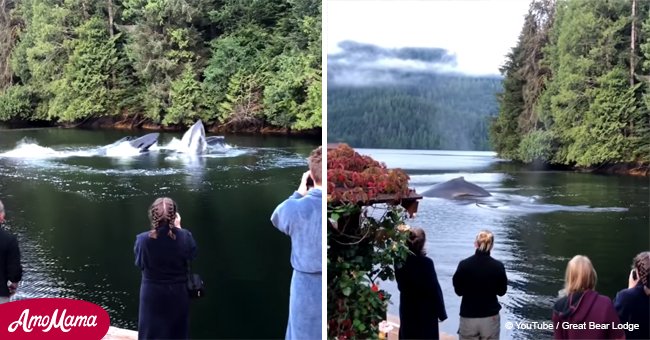 Humpback whales put on a spectacular show for guests at Port Hardy lodge
Two humpback whales surprised the staff early in the morning when they showed up very close to the lodge's dock, and the team rushed to wake up the guests, so they don't miss the rare occurrence.
In a video shared by Great Bear Lodge, located in the Port Hardy district of British Colombia, Canada, on YouTube, on August 4, 2018, two humpback whales were spotted bubble-net feeding from 6:00 AM much to the delight of the guests and staff at the lodge.
Staff members rushed to wake the ten guests who were staying at the lodge early in the morning so they wouldn't miss such a fantastic spectacle, according to BNQT.
Read more on our Twitter account @amomama_usa.
But by the time the guests made it to the dock in the morning attire, the whales had moved slightly away from the dock, Marg Leehane, the lodge's co-owner said.
"But we kept watching for the whales, and eventually they came back. We had to rush the guests from one dock back to this one to make sure they didn't miss it."
Marg Leehane, BNQT, August 7, 2018.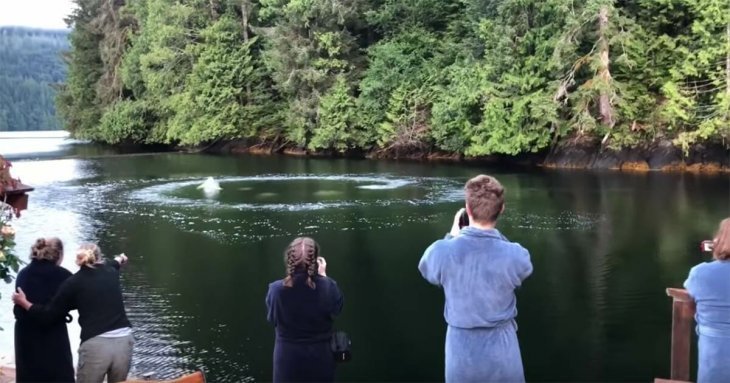 Source: YouTube / Great Bear Lodge
Leehane said that the experience of watching the humpbacks bubble-netting up close and the smaller fish quickly moving out of the way was breath-taking.
According to Leehane, the first that the staff witnessed the humpback whales bubble-net feeding in their area, was in 2017.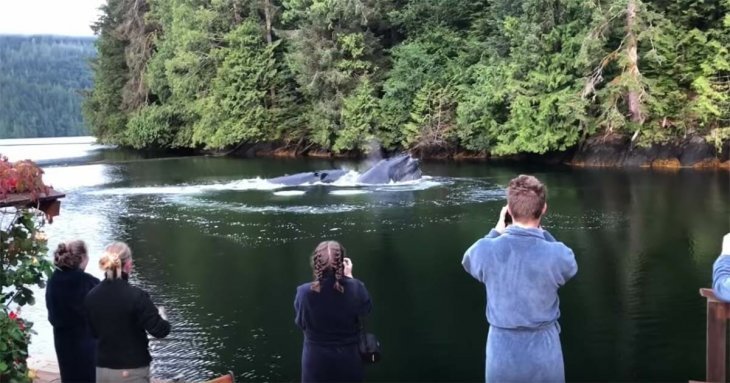 Source: YouTube / Great Bear Lodge
She added that the lodge had seen many baitfish in the inlet since the start of 2018 and as a result, they have spotted about two whales visiting the area near the lodge since the beginning of the season in May.
Usually, the staff at the Great Bear Lodge see the humpbacks from a distance of almost a mile, so seeing the whales feeding about 200 meters from the dock was a big surprise for them, too, said Leehane.
BNQT reported another incident about an orca whale that dragged a sailboat over the harbor to the bewilderment of the people around.
The 27-year-old seemingly playful orca was caught on camera on July 29, 2018, pulling a sailboat across the British Colombia harbor, Comox, through the sailboats anchor line.
Please fill in your e-mail so we can share with you our top stories!