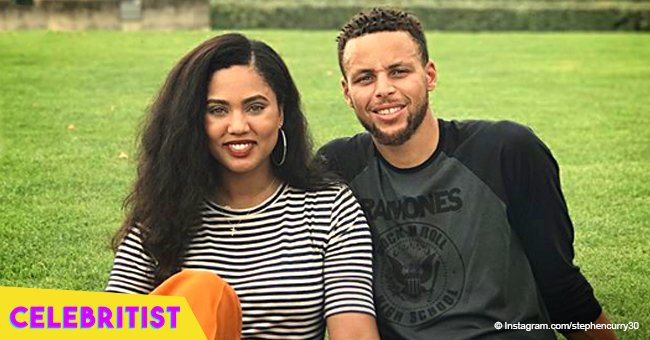 Stephen and Ayesha Curry look so in love in picture from the day they 'made it official'
Ayesha Curry has yet again proven why she and her husband Stephen are considered "couple goals" by many.
It's been a decade since the Currys got together as a couple and she celebrated by sharing the memorable photo with her followers.
The celebrity chef's proved that while they've had some new additions to their family in the past couple of years, their relationship remains strong and their love for one another continues to grow.
The cute photo showing Steph and Ayesha taking a selfie from 10 years ago made fans gush about the lovely couple on the post's comment section.
"Can't believe my babe and I have been loving each other for a DECADE! Feels like yesterday. This is the day we made it official! 10 yrs to the day. I love you @stephencurry30 !!! Yung Eesh:19 Yung Chooch:20"
Just recently, the proud parents-of-three also celebrated their 7th wedding anniversary together, and they made sure to show off their sweet sides on social media by giving each other the most touching tributes.
Despite being together for several years, Ayesha is still on cloud nine with her husband.
She shares that every single year with their growing family, she thinks her life couldn't get any better and yet somehow it does.
The NBA star made sure to share a number of their sweetest photos as well, expressing just how blessed he is to have Ayesha by his side. He said:
"Happy 7th Anniversary baby! Just yesterday- We looked at each other in awe of the many blessings God has granted us! And the sacrifices you make on a daily to make us go are forever noticed and appreciated. Can't imagine life without you. More love, more growth, more everything! 7/30/11 WSC x AC @ayeshacurry."
Even after the Currys first met at a church group session back when they were teenagers, they have kept their lives centered around God.
It has been one of the reasons why their family has remained rock solid through the years.
Now that they are celebrating their 10th year together, they have nothing more to wish for but many more years of happiness, successes, and good health together.
Please fill in your e-mail so we can share with you our top stories!