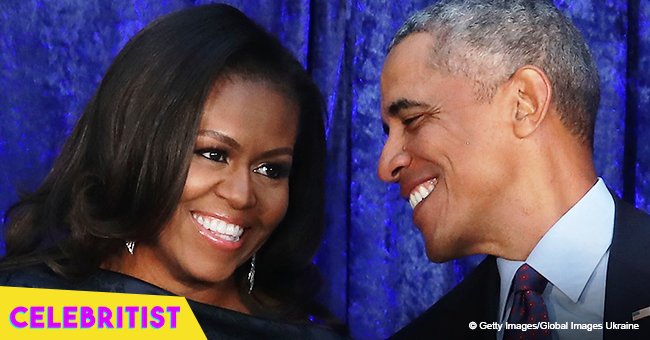 Barack and Michelle Obama bust out dance moves at Beyoncé & Jay-Z concert

Now that the Obamas have retired from US politics, they have been enjoying simple things that they were not able to do while they were still at the White House, like busting out some dance moves at a Beyonce and Jay-Z concert.
Barack and Michelle prove that they are just like everybody else as they were caught dancing along to Beyonce and Jay-Z songs in their recent "On The Run II" concert in Maryland.
It seems the Obamas are one of the Carters' biggest fans as Michelle was also previously spotted jumping up and down with the crowd in their recent concert in Europe. Amazed at the talent of one of music's most influential couples, Michelle probably just had to bring her husband Barack along for him to see the production for himself.
Queen Bey and her rapper husband took over the stage at the FedExField in Landover, Maryland a couple of weeks ago, and it marked their third performance on their tour's sold-out US leg. While fans and concertgoers were ecstatic to be seeing Jay-Z and Beyonce in action, it was also such a treat for them to be able to witness two of one of the most influential people in the world having a great time and enjoying themselves with everyone else at the concert.
Obamas enjoying the concert
Of course, being a former President of the United States means having added security detail, and so he and Michelle had to settle for the stadium's VIP boxes where they were joined by the rest of the patrons who did not want to brave the mosh pit crowds. It was there that Michelle and Barack started to enjoy the show while dancing and singing as if nobody was watching them.
In videos taken by fans who bore witness to how much of a funloving couple the Obamas are, 56-year-old Barack was caught waving his hands in the air while enjoying a song that has been tuned out due to screaming fans. Obama made sure to keep himself casual as he enjoyed the music, donning a black collared shirt which he tucked into denim pants and supported with a black belt.
Meanwhile, former First Lady Michelle Obama, 54, was also caught dancing and jumping beside her husband, as the people surrounding the couple were busy filming them instead of enjoying the actual concert taking place on stage.
With Michelle was Beyonce's mother Tina Knowles herself, and the eldest Obama daughter Malia, who was accompanied by her boyfriend Rory Farquharson and a few of their friends.
Decades-long friendships
The relationship between the Obamas and Carters date back in decades, as Beyonce was also a vocal supporter of President Barack when he was still in office. In 2017, it was the songstress who sang during the former president's first inauguration, singing a rendition of "At Last." A few years later, she also joined Michelle on her "Let's Move" campaign which aimed to prevent childhood obesity in America. Jay-Z is also close to the US power couple, as it was Barack who gave the speech to induct the rapper as the first hip-hop artist in the "Songwriters Hall of Fame."
"I like to think Mr. Carter, and I understand each other. Nobody who met us as younger men would have expected us to be where we are today," former POTUS said during the speech caught on video.
"We know what it's like not to have a father around, we know what it's like not to come from much, and to know people who didn't get the same breaks that we did. So, we try to prop open those doors of opportunity so that it's a little easier for those who come up behind us to succeed as well."
It's quite a sight to see two of the most powerful couples in the United States join forces now and then, and it makes us wonder just what else they have planned now that they are doing their philanthropic work without the influence of US politics on their sleeve.
Please fill in your e-mail so we can share with you our top stories!