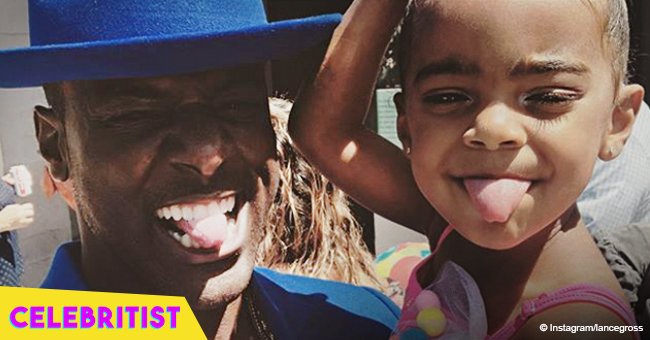 Lance Gross shares photo of daughter with a crown, cape, & scepter while sitting on a throne

Lance Gross is one proud father, and his Instagram feed proves that. Despite posting dozens of photos of his beautiful daughter since her birth, it might be quite hard to top the most recent one of her wearing a crown, cape, and scepter while sitting on a throne.
While the spotlight has been on her newborn baby brother in the past couple of weeks, Berkeley Gross stole the show once again after her father posted a photo of her looking like royalty complete with the costume.
In the photo, the little princess could be seen sitting on a throne while wearing a red cape. On her hand, she carried a toy scepter, and on her head, she wore a gold and pink crown. Making sure to show his supporters that nothing has changed and that his 3-year-old daughter remains to be his "turtle," the proud father showed her off again after a while.
This comes after Lance, and his wife Rebecca welcomed their son, Lenon Lorin Gross to the world last month, just a few days after the actor's birthday.
In an Instagram post, he shared how blessed he felt having been able to celebrate his birthday, and then his son's a few days after.
"Celebrated my Born Day on the 8th and today I'm celebrating my son's. God is Good."
This isn't the first time Lance gushed about his child on social media, as he has been a doting father since 2014 when he and his wife welcomed their first child and daughter Berkeley. In an interview that he gave back in 2016, he shared just how much love he has for their little girl, whom he says "got me wrapped around her finger."
"I am definitely in love and this little girl, she's got me wrapped around her finger."
According to Gross, fatherhood has been an eye-opening experience for him, and it is the reason for so many changes and adjustments that he made in life.
"This has been an eye-opening experience, having a daughter, and she's the reason I've made so many changes and adjustments in my life to make fatherhood a priority. Sacrificing certainly comes into play and yes there are times when my wife gets jealous because my little girl has all my attention when I'm spending time with her. I wouldn't trade fatherhood for anything in the world. It's just been an awesome experience."
Now that Lance is a father-of-two, fans can expect him to share even more about Lenon and Berkeley being his pride and joy.
Please fill in your e-mail so we can share with you our top stories!