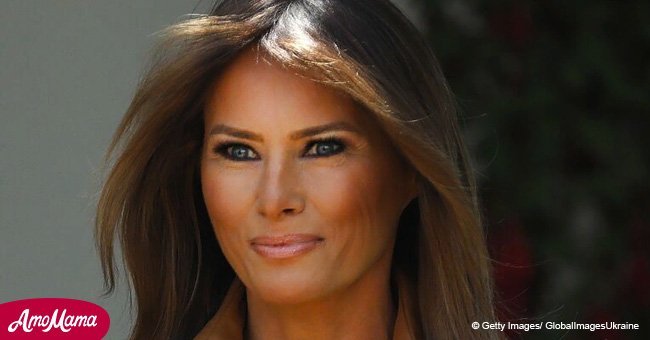 Melania Trump's parents granted citizenship through one of the visas her husband is opposed to
The First Lady of the United States's parents are citizens of the USA at last.
Melania Trump was born in Novo Mesto and grew up in Sevnica, in the Yugoslav republic of Slovenia. She became an American citizen in 2005, and she is the first naturalized woman to become First Lady.
Her parents, Viktor and Amalija Knavs, had been visiting the US for many years, before residing with Green Cards but now they have finally become United States citizens, CNN reported.
They obtained their citizenship through the sponsorship of their adult daughter, one of the categories of citizen application her husband's administration is seeking to end.
Read more about Melania Trump on our Twitter account @amomama_usa.
Their Immigration Attorney Michael Wildes , told CNN:
"It went well and they are very grateful and appreciative of this wonderful day for their family."
The US Immigration law allows US citizens and legal permanent residents to sponsor family members to come to the US permanently, including categories for parents, adult siblings, and adult children, married and unmarried.
The largest number of new citizens and residents each year is drawn from this pool, with fewer people gaining entry based on their employment, as refugees and other special circumstance cases.
The proposed alteration to the law would favor immigration as a "merit-based" system that would choose immigrants based on need in the US employment market, and reduce drastically the applications based on family connections.
Experts estimate that the alteration to the law would reduce immigration to the US by 40% to 50%.
The 73-year-old Viktor and 71-year-old Amalija Knavs are now retired.
This is not the first time Melania Trump has been cited with reference to immigration issues.
In response to the Trump administration's "Zero Tolerance" immigration policy, Melania Trump stated that she "hates to see children separated from their families," and was in favor of a "successful immigration reform."
On June 21, Melania took an unannounced trip to Texas to see for herself the plight of over 2000 children forcibly separated by the policy from their parents.
Melania held a roundtable with doctors, medical staff, social workers and other experts at the Upbring New Hope center and pledged to fight to protect the children.
She said, "I am well aware that people are skeptical of me discussing this topic, but that will not stop me from doing what I know is right," proving that as a First Lady she isn't always a Yes Lady.
Melania Trump's quiet determination to "do what's right" has made her the most popular member of the Trump Administration according to a CNN poll.
She ranks as one of the most popular First Ladies ever, ranking third behind Laura Bush and Michelle Obama.
Please fill in your e-mail so we can share with you our top stories!