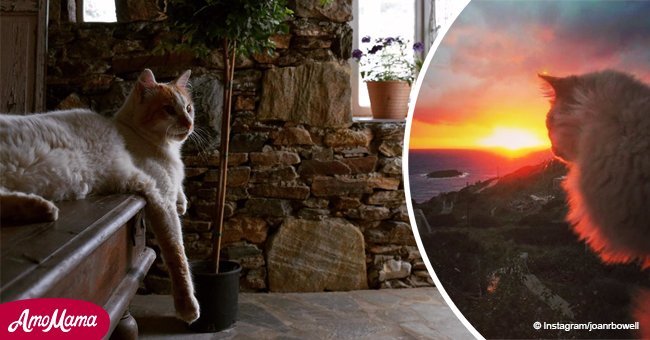 Dream job for cat lovers available on a beautiful Greek island

What feline lover wouldn't want to join this cat heaven on earth? A paradise-like island called Syros houses a sanctuary of cats, and the job invitation offers several benefits to the chosen employee. Free housing, anyone?
Joan Bowell, who currently runs the sanctuary, reassured persons that "this is genuine and NOT a joke." In the post, found on God's Little People Cat Rescue Facebook page, she details the "very special" job offer.
The family of 55 cats has been cared for by Joan and her husband since 2010 when the cat-lover couple moved from Denmark to Syros for health purposes. However, they are now moving on.
A "direct view of the Aegean Sea" sounds like one will be in Westeros itself. The included free water and electricity may throw off that medieval air though. Additionally, the "modern tiny house" has its own garden and is ideal for persons looking for nature, serenity, and quiet during the winter. Things get a bit busier in the summer, however.
Follow us on Twitter for more @amomama_usa
So, what's required of the selected applicant?
The job is actually a part-time one, requiring four hours of work. No less than a cat crazy attitude is called for. "Heaps of love and attention" must be given to the precious felines, in addition to feeding and giving genuine cuddles.
The ability to drive a manual car is also a must in case of emergency trips to the vet, while veterinary costs and other expenses will be fully covered. Being a trained veterinary nurse is a plus, but is not essential.
Bowell says one should be a cat psychologist and a "cat whisperer." Remember, these are strays and some may act "feral or non-sociable."
The first 2-4 weeks is when they'll get a chance to feel you out as that period will be voluntary and unpaid. Free accommodation still applies though.
The catsitting salary rolls in on November 1st. Thereafter, a six-month minimum period of employment is expected, so be sure you have what it takes to handle 55 cat babies long-term.
Unfortunately for younger cat ladies, the most suitable candidate is likely to be 45 and over. That's according to the experienced couple who are conducting the search. Nonetheless, feel free to submit your application before the end of August, which is the deadline for this dream job.
Please fill in your e-mail so we can share with you our top stories!