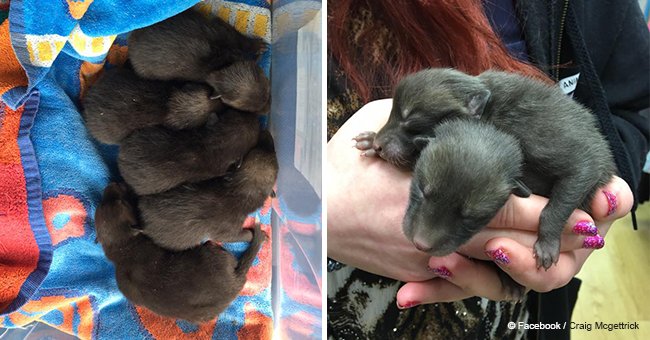 Man thought he found puppies in his garden, but it turns out they were not even dogs
Craig McGettrick owns a delivery, cleanup, and removal service in England and made a strange discovery while working in a local garden.
McGettrick was removing rubble from his client's garden when he found five abandoned puppies under a mattress and no mother in sight.
Follow our Twitter account @amomama_usa for similar stories and scroll down to see the adorable video.
He realized that the puppies would not survive on their own and a local shelter, the Freshfields Animal Rescue, welcomed them with open arms
The images soon went viral and made it to Mark Hemmington's social media feed. Hemmington is the founder of the National Fox Welfare Society.
He had shocking news for McGettrick: those weren't puppies. They were baby foxes, also known as kits!
The kits were too young and weak to be released back into the wild, and one of their volunteers, Paul, was called to reunite the babies with their mother.
Paul suggested that they return the kits to the same garden, as she might return to that spot. If the kits cried out, Paul was confident that she would return.
Sure enough, she did, and Paul was able to get the happy reunion on camera. He shared it on Facebook, and the clip received more than 278,000 views since.
The mother can be seen cautiously approaching the box. Once she realized her kits were safe, she carefully picked one up and carried him away.
She then returned to carry the four remaining kits, safely removing every fox within sixty seconds. Everybody involved was overjoyed that their hard work paid off.
The National Fox Welfare Society has dedicated themselves to the rescue of foxes for more than two decades.
All foxes rescued by them receive the best veterinary care and medicine to speed up recovery before being released back into the wild.
Please fill in your e-mail so we can share with you our top stories!